Pictures of Katy Perry Topless — Full Photoshoot From Esquire UK Magazine August 2010
Katy Perry Takes Her Top Off and Talks Russell in Esquire
Katy Perry is topless on the cover of August's issue of Esquire magazine, and shows off her gym-honed body inside the mag too. She talks about her image, her Christian upbringing and of course her fiance Russell Brand. Here are some extracts from her interview: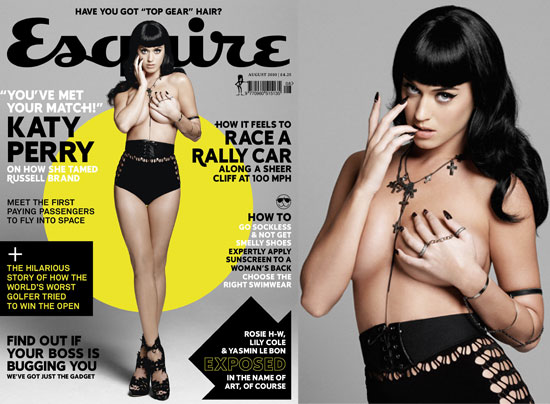 On her image: "I feel like I wanna be somewhat of a girl-next-door, but not as f**kin' sappy. People's attention span is so quick these days that if you don't burn an image into their brain, it will be covered up with something else."
On her childhood: "I grew up listening to only Christian music. MTV was blocked on the television. When I went roller-skating, I would go on Christian night: Tuesday night. It was just a part of growing up — parents are strict because they don't want you to turn into Charles Manson. I was always very manipulative as a kid — I got my way. Which has helped my whole life."
On Russell Brand: "He was a heroin addict and now he's not. He was addicted to all kinds of things, now he's not. And he used to basically be a professional prostitute. Now he's not. So he's an extremist, which can be good and bad. I always needed someone stronger than me. And I am, like, a f**king strong elephant of a woman. I say that hopefully in the humblest way I can. When we have an argument he knows I'm not going to throw m hands up and say 'OK, you win.' Let's get into it. Let's start debating. Let's wrestle, Russell."
To see more photos of Katy, and to hear more about her relationship with Russell, read more.


On buying him an SUV and driving lessons: "I don't know if it's going to be a good thing. He needs to be in a small car made out of something bulletproof. He really tries. He's a wonderful learner, whether it's Krav Maga or Spanish. He has a lot of hobbies and he's always trying to better himself. That's why I love him."
On meeting her match: "One night I picked him up from a meeting. It was just me; I was in my gym clothes, I walked into the meeting — he had his stylist, his seamstress, his PR person, hair, make-up. I'm like 'Oh my God, I am you. You are me' Two divas in one house. It's like splitting the atom: it shouldn't happen."
The full interview appears in the August issue of Esquire, on sale now!
Pictures taken by Yu Tsai, used courtesy of Esquire