Pictures of Kristen Stewart and Taylor Lautner at Rome Eclipse Premiere Plus Enter Competition to Win Tickets to UK Premiere!
Pics: Kristen and Taylor Get Fancy For Eclipse Rome Premiere!
Kristen Stewart and Taylor Lautner got into their gladrags for the Rome premiere of Eclipse last night. It was the second LBD of the day for Kristen, who chose a fab Marchesa gown for the evening aftering wearing a cute dress at the earlier photocall. Both Taylor and and Kristen chatted with PopSugarUS about their movie. The costars have stuck together around the world promoting the latest film in the Twilight saga, and will continue their trip through Europe. We're giving you the chance to be at the UK premiere, so enter our giveaway!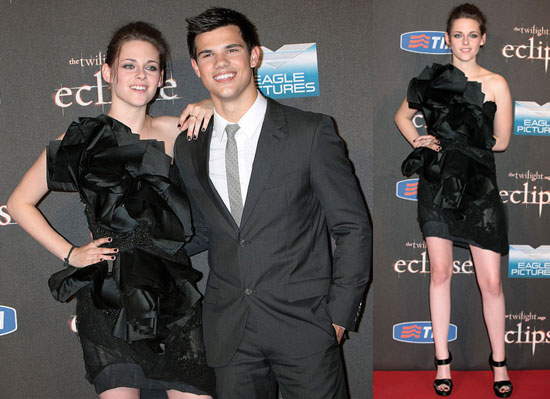 To see more pictures of Kristen and Taylor at the premiere, just read more.