Pictures of Lady GaGa On Stage in Her Skimpy Stage Costumes Including PVC Bikini, Nude Underwear and Swimsuit
Lady Gaga Brings Her Monster Ball Back to the UK
Lady GaGa performed in Nottingham yesterday for the first night of the second leg of her UK tour. She brought her incredible costumes with her including her stripping down to studded black pvc underwear. She appeared to get the giggles in her tassle costume, but later the set turned emotional when she spoke about her grandfather and cried onstage. In a revealing interview in the Times she spoke about her Aunt who had lupus, and admitted she'd been tested for the disease after experiencing some of the symptoms.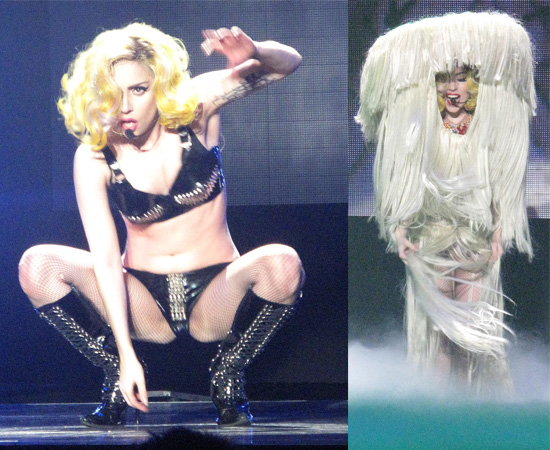 This leg of the tour is different from the first as she's brought back staging from her US tour. She rocked a transparent dress with nude underwear for one section of the show, and a skimpy leopard print pvc body, with spectacular glittery hat. GaGa's also admitted she loves Glee after the show used some of her songs.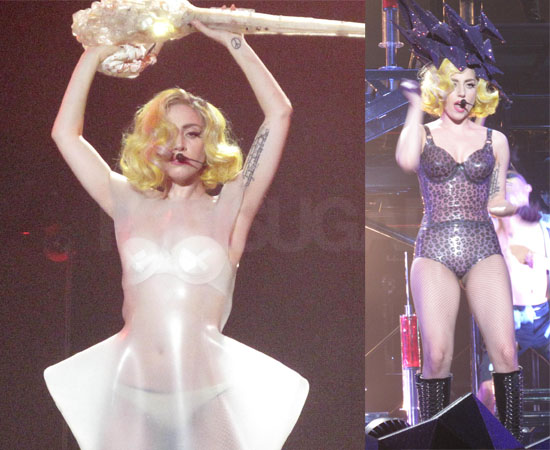 To see more photos of her amazing costumes, just read more.