Pictures of Mary-Kate Olsen in September 2010's Marie Claire Magazine
Mary-Kate Olsen Tells Marie Claire She "Wouldn't Wish Her Upbringing on Anyone"
Mary-Kate Olsen has not one, but two covers for September's Marie Claire — which one do you like best? She's in the midst of spending a fun Summer with her sister Ashley, working, being social, and painting their hair neon colours. Both Mary-Kate and Ashley are looking forward to showing off their latest designs during Fashion Week, and MK opened up to the magazine about her passion for clothing. She also spoke about losing her friend Heath Ledger and how she feels about having been a child actor. Mary-Kate said: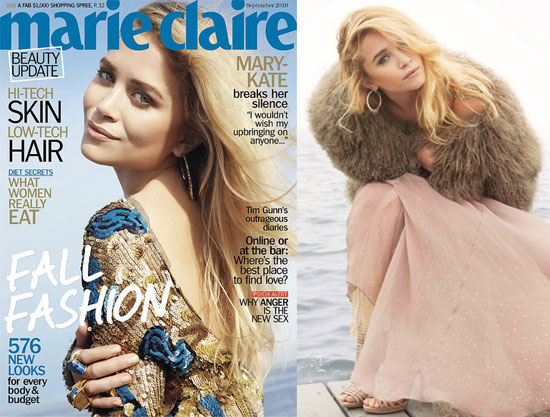 On growing up as a child actress: "I look at old photos of me, and I don't feel connected to them at all . . . I would never wish my upbringing on anyone . . . "
On her friend Heath's death: "I think it's really important to be able to talk when something's wrong. I learned at a really young age that if you don't talk about it, it can drive you insane."
On her passions: "I still read scripts, and if something great comes along, that's great . . . but this is my day job. The Row is where I go every day."
Photos courtesy Tesh for Marie Claire