Pictures of McFly Naked In Attitude Magazine, Dougie Poynter Talks About Frankie Sandford
Naked McFly Feature On The Cover Of August's Attitude Mag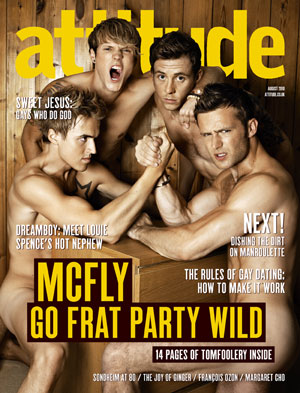 Those boys from McFly are naked on the cover of August's Attitude magazine, with Dougie Poynter and Danny Jones cheering Tom Fletcher and Harry Judd on as they arm wrestle. In the nude. Just a typical Saturday night for the lads then, eh?
Inside the mag they get even saucier, with lots more gorgeous shots of the boys wearing very little. It's not all hot pics though, there's also an interview. Here's an extract where Dougie talks about his long term relationship with The Saturdays' Frankie Sandford:


How's it going with you and Frankie?
Do: Yeah, really, really good!
Do you offer each other pop advice?
Do: Er, kind of. She comes to us, really, for more advice on stuff.
T: We're veterans!
You're her rock.
T: Dougie's her Elton!
And have you plans to move in with her?
Do: She pretty much lives with me now, in my flat. But we're looking at buying a house, so hopefully that'll go through, and then we'll be properly living together.
T: Actually, one of the first times you and Frankie met and started talking
was in G.A.Y., wasn't it?
Da: We were both playing the same night, the last one at the Astoria.
Do: We were sharing a dressing room, and me and Danny had just had a hot tub installed, so we were like [puts on sleazy Hugh Hefner voice] 'just come over and check out our hot tub.'
T: Dougie has fancied Frankie since when she was in the S Club Juniors. When we'd first come out.
To read on and see whether they decide it was a bit wrong to fancy an S Club Junior, just read more.
Wasn't it a bit wrong to fancy an S Club Junior?
H: We always told him!
Do: Well no, because I was 15. I was a Junior myself, I was a McFly Junior!
H: You met at G.A.Y., that's great.
Do: We're as gay as they come, as gay as couples come
H: Dougie met his lover at G.A.Y.!
You can read the full interview and see all the gorgeous pics of the boys in Attitude, out now!