Pictures of Megan Fox's Abs, Lauren Conrad on the Cover of October 2010 Elle Magazine
Megan Fox Shows Her Six-Pack, LC Her Smile For Elle's 25th!
Elle US magazine is celebrating its 25th anniversary in October, and while Kate Hudson graced the front of our UK version, four lovely ladies scored the honours stateside. Lauren Conrad, Megan Fox, Gabourey Sidibe, and Amanda Seyfried all get their own covers and are among the 25-somethings featured inside the issue. The women each reflected on what it means to reach the quarter-century milestone, whether they're embracing a carefree 20s or settling down into married life. Megan also put her extremely toned abs on display in her underwear shot while everyone else smiled big in their cute outfits. To see the rest of the covers and lucky ladies, as well as more quotes, check out Elle.com. Here are highlights: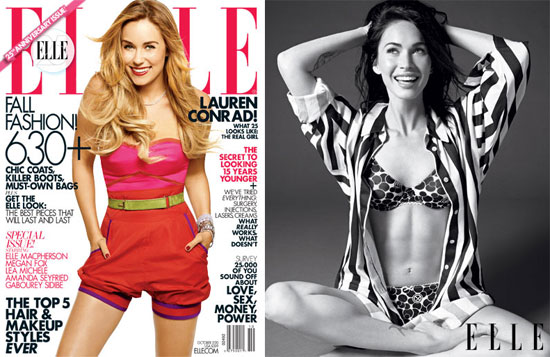 Gabourey on turning 25: "Part of me thought it would be weird if people knew I was a grown-up playing a teenager in Precious. So I had a twenty-first-birthday party. We had drinks and went to a strip club called Shotgun Willie's."
LC on loving her 20s: "It's your time to be selfish; you still have freedom . . . I was never that girl who just wanted babies. I wanted a career before all of that."
Megan on being married: "When I talk about my husband [Brian Austin Green], I feel as if people roll their eyes. It's like when you're 16 and order a martini, and the waiter says, 'Do you think I'm stupid?' They can't grasp that I'm old enough to be married."
Amanda on the best and worst parts of 25: "The best thing is, I'm happy. The worst is that I'm scared; the scariest thing is that I know it can't be easy — the years to come."