Pictures of Men at National Movie Awards Red Carpet Including Dominic Cooper, Joshua Jackson, Orlando Bloom 2010-05-26 13:55:06
Gorgeous A-List Guys Walk the NMAs Red Carpet!
Lots of handsome men were at Royal Festival Hall for the National Movie Awards tonight. Dominic Cooper and James Corden stuck together on the red carpet before presenting Robert Pattinson with his award via video linkup. Alan Carr and Chris Rock shared a bromantic moment too. Joshua Jackson posed on his own after cuddling up to Diane Kruger, and Orlando Bloom went solo. Tom Cruise signed autographs after smiling for photographers with Katie Holmes, and Aaron Johnson stayed by Sam Taylor-Wood's side.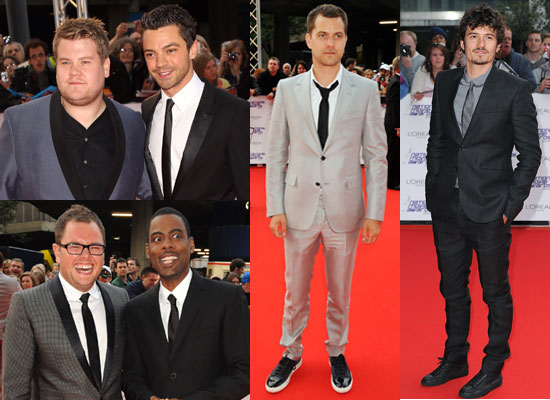 To see more pictures of all the men, including James Nesbitt, Chris Noth, George Lamb and more, just read more.
Images include: Joshua Jackson, Orlando Bloom, James Nesbitt, Chris Noth, Alan Carr, Chris Rock, George Lamb, DJ Ironik, Chipmunk, Simon Pegg, Dexter Fletcher, Martin Freeman, Tom Cruise, Dominic Cooper, James Corden, Aaron Johnson, Noel Clarke, Ron Livingston