Pictures of Nearly Naked Lady Gaga Performing At Lollapalooza With Semi Precious Weapons
Lady Gaga Shows Up Nearly Naked For Lollapalooza Show
Lady Gaga always puts on a show, and she certainly did for a cameo appearance with her friends Semi Precious Weapons at Lollapalooza in Chicago yesterday, ahead of her own set. Wearing fishnet stockings and top over diamante underwear and silver stars on her breasts, Gaga took to the stage while watching the band. Frontman Justin Tranter explained: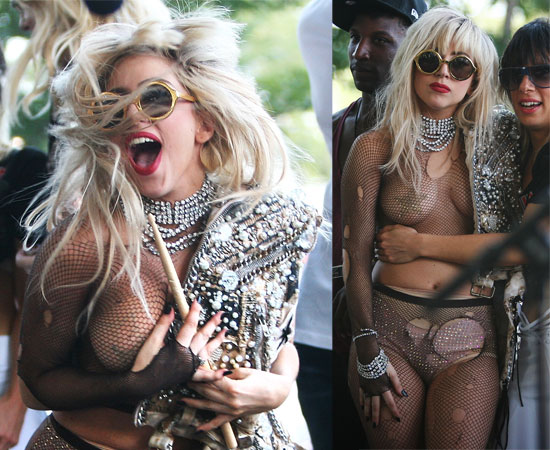 "She stood on the side of the stage, and then during the song "Magnetic Baby", she started playing drums with Dan. Then she started singing backup vocals, then her and I made out, and then she stagedove and then I joined her while she stage-dove. And then we made out while stagediving. And then she left. It was pretty amazing."
To see more photos, just read more.