Pictures of Neighbours 25 Years and 6000 Episodes Celebration Party in Melbourne
Neighbours Celebrates 25th Anniversary Amid Kylie Rumours
Current stars of Neighbours celebrated 25 years and 6000 episodes of the soap with a party at The Olsen in Melbourne yesterday. Sam Clark, who plays Ringo Brown, will be leaving the show at the end of the month to persue his singing career. He was surrounded by his female cast mates, including Brit Gabriella Darlington who won Five's competition to play Poppy Rogers. Even though initial reports were laughed off, rumours of a Kylie Minogue cameo continue, as the former star of the show is in the Australian city visiting Dannii and Ethan.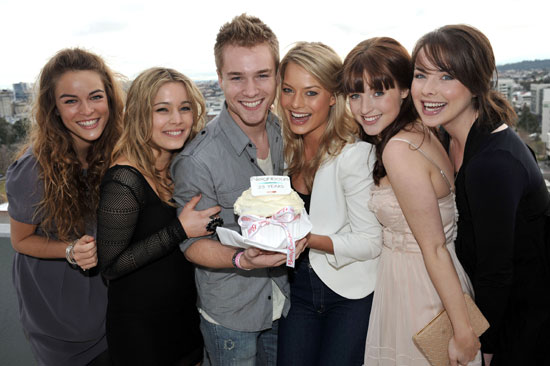 Stefan Dennis (aka Paul Robinson) sipped bubbly with Scott Major (Lucas Fitzgerald) and Alan Fletcher (Karl Kennedy). Stefan appeared in the first ever episode, and he plays a key part in the 6000th episode. His onscreen son Jordan Smith (Andrew Robinson) smiled wide with Ryan Moloney (Toadie Rebecchi) and Matthew Werkmeister (Zeke Kinsky), while Carla Bonner (Steph Scully) got close to Sam. Check out loads more pictures after the jump!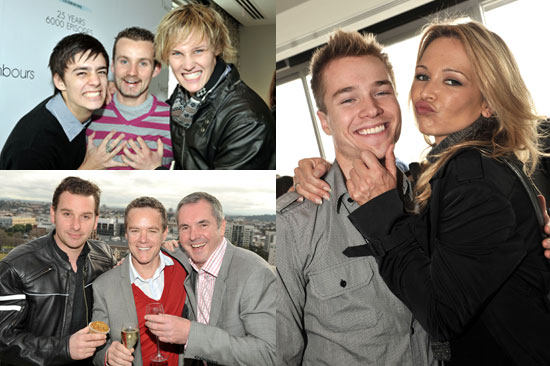 To see more pictures of the party, including Jane Hall (Rebecca Robinson), Jackie Woodburne (Susan Kennedy) and Janet Andrewartha (Lyn Scully), just read more.
Images include: Sam Clark, Carla Bonner, Gabriella Darlington, Margot Robbie, Kaiya Jones, Scott Major, Stefan Dennis, Alan Fletcher, Jane Hall, Jackie Woodburne, Ryan Moloney, Jordan Smith, Matthew Werkmeister, Janet Andrewartha, Erin Mullally, Ashleigh Brewer, Kaiya Jones, Jordy Lucas, Valentina Novakovic, Sandy Winton, Gabriella Darlington