Pictures and Quotes From Blake Lively in Interview
Blake Lively Takes Aim at Ben Affleck's Fashion in Interview
Blake Lively is on the cover of Interview. She opened up for a chat with her The Town director Ben Affleck, and the pair spoke about working together and even his lack of fashion sense. Blake is getting into promotional mode for their big-screen project, but lately she's been all about shooting the new season of Gossip Girl. Ben hasn't been shy about his fondness for Blake, and the duo looked like they hit it off while filming together last year. Blake said: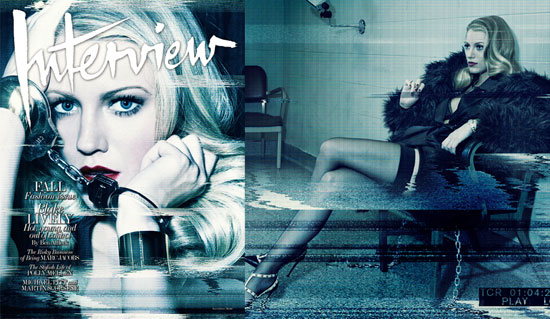 On Ben's lack of being fashionable: "Well, people like you make me fashionable, because if there is no wrong there can be no right."
On having a sex scene on the first day: "The sex scene was really awkward. It was my first day, so thank you for that."
On whose career she'd want: "People always ask me that and I always answer with men. Which is not to say that there aren't incredible women in this business, but I feel like men are still given much better opportunities. I feel like there are so many people I admire for so many reasons that I can't look at one person's life and say, 'I want that life.' I want to make my own history."
To read what Blake says about her family, her Traveling Pants movies, and being bold, just read more.
On doing the first Traveling Pants movie: "It was an amazing first job. And all I had to do was miss finals at school? So I thought, 'Well, this is great. I'll just try out acting and see if I like it.' I missed my finals, I was away shooting for the summer, and I came back home. But rather than pursue acting, I decided that I wanted to finish out my senior year. I thought, I'll finish high school and then I'll hold off going to college for a year and just try it. But here I am still acting. Things worked out all right."
On her family: "I have a big, close, loving family, and they're all from the South, but because so many of them are actors, everyone was very normal about it. It was just like any job to them. They always came home and talked about it around the dinner table the way any family talks about work, but it wasn't anything special. I think for a lot of people, acting becomes a lifestyle, especially when you're living in Los Angeles. But despite the fact that my family moved to L.A. and I grew up there — in Burbank, which is like a small town inside of a big city — I don't feel like I ever had any sort of Hollywood upbringing. So I don't remember there ever being a downside. There were only upsides. I got to travel and visit my family on set. I got to eat craft service. I actually think that was the reason I got into acting: the free food. I literally remember on my first job being like, 'Yes! I get to have craft service every day!'"
On being bold while shooting The Town: "Well, I had to be bold with you! I had to be brave because this role was terrifying. But it was all smoke and mirrors because I read the script and I didn't know how I couldn't do it. I loved this character so much. I was a little selfish in wanting to do it because I also thought, Well, maybe I'm not the best person for this, but I really want it. I didn't know how to do a good Boston accent, so I went and got a dialect coach, and she was really good, but it was a real proper accent I was learning, and my character is from the projects. But she'd lived in Charlestown her whole life, and the kind of accent she would have had is very different from an across-the-board Boston accent."
Photos courtesy Craig McDean for Interview