Pictures and Quotes From James Franco in The Advocate
James Franco Confronts Lingering Rumours in a Chat With The Advocate
James Franco is on the cover of The Advocate's October issue, and inside the magazine he opened up about his career and his latest turn playing a gay man in Howl. He's not one to shy away from creating controversy, and James admits that in the past he liked to stir up trouble when on set. Now, he prefers provoking people through his writing and art — apparently, his turn as a soap star on General Hospital is the decision that most upset his agents. James's new movie, in which he stars opposite Jon Hamm, hits US cinemans on Sept. 24, and his intense-looking film 127 Hours will be out soon after in November. James said: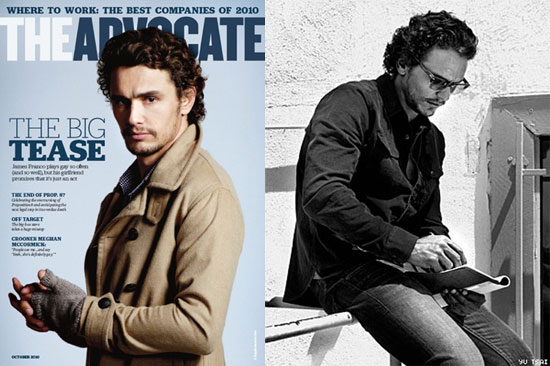 On confronting the rumours he's gay: "Sure, I'd tell you if I was. I guess the reason I wouldn't is because I'd be worried that it would hurt my career. I suppose that's the reason one wouldn't do that, right? But no, that wouldn't be something that would deter me. I'm going to do projects that I want to do. Everyone thinks I'm a stoner, and some people think I'm gay because I've played these gay roles. That's what people think, but it's not true. I don't smoke pot. I'm not gay. But on another level, there's something in me that is able to play roles like that in a way that's convincing."
On the one thing his agents tried to talk him out of: "You want to know what my agents did try to talk me out of? General Hospital. They didn't think me acting in a soap opera was the greatest idea. But they know that I've always wanted to do a movie about the Beats, so no one tried to stop me from playing Allen Ginsberg."
On how he's grown professionally: "I used to approach acting with a very antagonistic [attitude]. I was very hard to get along with, and it made working in film very unpleasant. It also hurt my performances. Now I think about acting differently. I feel a little detached from acting, actually. I still work really hard, but for my own sanity — and everyone else's — I've had to surrender the results."
To see video from James's shoot with The Advocate, just read more.