Pictures and Quotes From The Town's Jon Hamm and Rebecca Hall in W
Rebecca Hall Looks Hot With Mad Man Jon Hamm, Denies She Was Involved in Kate & Sam's Split
Jon Hamm and Rebecca Hall make a hot twosome in the August issue of W, which is the magazine's new editor Stefano Tonchi's first cover. The pair stars together in Ben Affleck's The Town, and also posed for a hot accompanying spread in the magazine — check out behind-the-scenes shots! Mad Men's Jon spoke about his long road to success and being a manly man. Rebecca, meanwhile, opened up about what it's like working with Ben in Boston. Conversation also veered toward Rebecca's alleged involvement in the breakup of Sam Mendes and Kate Winslet. Rebecca flatly denied the rumours, as Jon joked about a sex tape with Sam, saying, "The reality is that I broke them up." Here's more: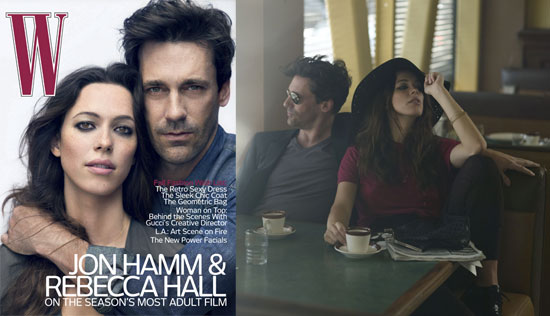 Rebecca on what it's like working with Ben in Boston: "He's kind of what you expect: He's incredibly smart; he's good fun. It's got to be odd being that famous, especially in Boston, where he can't walk a block without having to put his hood up. He is Mr. Boston."
Jon on his long road to success in Hollywood: "I had given myself five years to be self-sufficient as an actor. I was already self-sufficient as a waiter. But I knew a lot of 40-year-old waiters and I didn't want to be one of those. I had taught school and I knew that I could always go back to teaching. I gave myself to my 30th birthday, and my 30th birthday actually happened on the set of We Were Soldiers, which was my first big Hollywood movie — a Mel Gibson vehicle. I was making enough money to quit my waiting job."
Jon on being a man's man: "I was raised by a single mother. I think the definition of a man's man has shifted in recent times to this sort of fratty bro, different from the older version, which was aloof and distant—Gary Cooper or Cary Grant or James Bond. Now it's a little vulgar, kind of lowbrow, adolescent. I'm not that guy. Part of being an adult is treating women like women."
Images courtesy Nathaniel Goldberg for W magazine