Pictures and Quotes from Pregnant Natalie Portman on SNL Spoof, Being Pregnant
Natalie Portman Talks Loving SNL Black Swan Spoof and "Calm" Pregnancy in Critics' Choice Press Room
Natalie Portman took home the best actress honours at last night's Critics' Choice Awards and in the press room her red carpet glow was still radiating her amazing glow. She was one of Fab's best dressed and her updo completed the look. This may be a good predictor of Sunday's Golden Globes where she's once again nominated for her amazing work in Black Swan. Check out the full list of this evening's winners and here's what Natalie had to say about her character, her pregnancy, and all the Black Swan spoofs: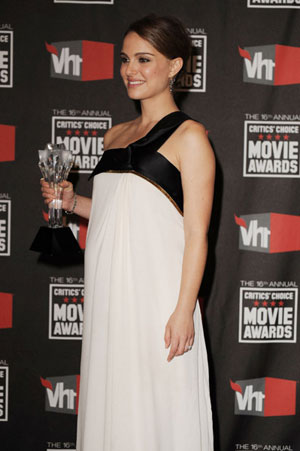 On parallels between the Black Swan dancing world and the acting world: "I think one of the interesting things, and because I started so young acting, you get used to seeing yourself out of your body. I think dancers have that a lot with all the mirrors. They're used to seeing the reflection of themselves rather than being themselves. I think that happened to the character a lot where she sees herself out of her body in her life. It's a struggle as an actor to remain rooted and anchored to yourself while being so aware of what you look like to other people."
On Black Swan spoofs during the show, on SNL and 30 Rock: "I think it's so funny. I actually think one of the most fun things about this whole process has been seeing the sort of humor out of all of it with 30 Rock and Saturday Night Live. It's the greatest tribute you can have, to be easily mockable."
On her pregnancy: "I feel great. I'm through my first trimester so it's been really calm and good. I feel extraordinarily lucky."
Stay tuned for more from the press room and vote in all our fashion and beauty polls on Fab and Bella!