Pictures of Robbie Williams and Gary Barlow at Radio One, Plus Watch the Video For "Shame"
Robbie Williams & Gary Barlow Visit Radio One, Watch Their New Music Video "Shame"
Robbie Williams and Gary Barlow debuted their new single and music video for "Shame" this morning, and visited Chris Moyles at Radio One to talk about the duet and the newly reunited Take That "version 3". The video was filmed in the US and the lyrics talk about the fractured relationship between them since Robbie left Take That in 1995. Check it out under the jump! Their interview with Chris was very amusing as they teased each other and discussed the fact they definitely will be doing 18 months as a five piece, including a tour, and after that Take That may continue as a four piece. You can listen to the fun interview again here. The single is out on October 4, and Take That will be releasing new music in November.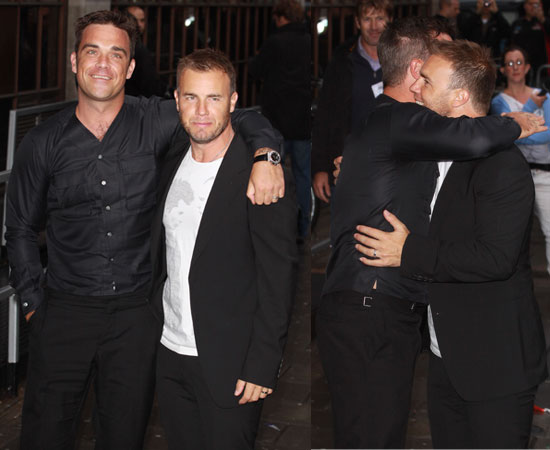 To see more photos and the music video, just read more.