Pictures of Robbie Williams Who Has Confirmed He's Rejoining Take That For An Album, Read The Band's Statements Here!
It's Confirmed: Robbie Williams Is Rejoining Take That — All The Details and the Band's Statements!
Robbie Williams and Take That are officially back together for an album that has already been recorded! As I reported earlier this week, Robbie is rejoining the band he left in 1995, for an album to be released in November. This will come after "Shame", his duet with Gary Barlow, comes out in October.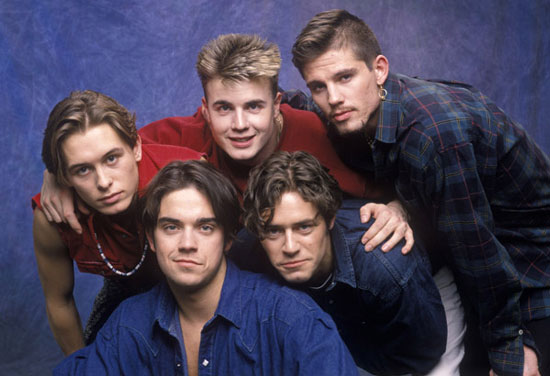 Robbie was spotted at a recording studio with the boys back in September last year, then teamed up with them on the Helping Haiti single and also joined them on stage briefly at Gary's Children in Need gig.
When strong rumours started earlier this week I polled you, and it was about 50/50 on whether he should rejoin the band or not. The decision is out of our hands though, as he confirmed today that he'll be rejoining the band and they have recorded an album together.
BBC News at Six showed exclusive footage of the band back together. To read the statements from the full band, Robbie, Mark Owen and Jason Orange, just read more.
Take That stated:
"The rumours are true... Take That: the original line-up, have written and recorded a new album for release later this year. Following months of speculation Gary Barlow, Howard Donald, Jason Orange, Mark Owen and Robbie Williams confirmed they have been recording a new studio album as a five-piece, which they will release in November. It is the first time they've recorded a full album together since the release of their number one album 'Nobody Else', back in 1995."
Robbie said:

"I get embarrassingly excited when the five of us are in a room. It feels like coming home."
Mark Owen said:

"Getting the five of us to be in a room together, although always a dream, never actually seemed like becoming a reality. Now the reality of the five of us making a record together feels like a dream. It's been an absolute delight spending time with Rob again. But I'm still a better footballer."
Jason Orange stated:

"'Flippin' brilliant, absolutely brilliant. I'm over the moon that Robbie's back with us, however long it lasts. I just want to enjoy our time with him.Life is beautifully strange sometimes."
I'll publish more details as I get them!