Pictures of Robert Pattinson, Kristen Stewart, Sandra Bullock, Tom Cruise at MTV Movie Awards Show Plus Full List of Winners
See the Show and Winners at the MTV Movie Awards!
After the stars walked the red carpet at the MTV Movie Awards they sat down for an awesome show. New Moon scooped five gongs and Robert, Kristen and Taylor took to the stage to introduce a new Eclipse scene. Their costar Anna Kendrick was named Breakout Star for Up In the Air and Amanda Seyfried collected her Scared-As-S**t Performance gong for Jennifer's Body. Highlights included Tom Cruise as Les Grossman dancing with J Lo, and Rob and Kristen kissing. Sandra Bullock was given the Generation Award by Bradley Cooper, Betty White, and Scarlett Johansson. She kissed Scarlett and gave a funny speech.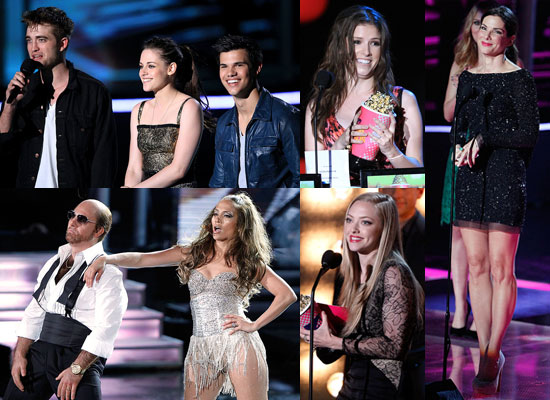 Knight and Day costars Tom Cruise and Cameron Diaz gave the Twilight crew the Best Movie award, and Peter Facinelli's swearing caused a stir. He posed with Nikki Reed and Elizabeth Reaser in the winners room, as well as many more stars from Eclipse. Tom Felton picked up Best Villain for his role as Draco in Harry Potter, and we were treated to a new trailer for Harry Potter and the Deathly Hallows. Check out the full list of winners after the jump.
To see the full list of winners plus more from the show, just read more.
BEST KISS
Kristen Stewart and Robert Pattinson, New Moon
BEST VILLAIN
Tom Felton, Harry Potter and the Half-Blood Prince
BEST WTF MOMENT
Ken Jeong pops up naked in The Hangover
BIGGEST BADASS STAR
Rain
BEST SCARED-AS-S**T PERFORMANCE
Amanda Seyfried, Jennifer's Body
BEST BREAKOUT STAR
Anna Kendrick, Up in the Air
BEST FEMALE PERFORMANCE
Kristen Stewart, New Moon
BEST MALE PERFORMANCE
Robert Pattinson, New Moon
BEST COMEDIC PERFORMANCE
Zach Galifianakis, The Hangover
GLOBAL SUPERSTAR
Robert Pattinson
BEST MOVIE
New Moon
BEST FIGHT
Beyonce Knowles vs. Ali Larter, Obsessed
MTV GENERATION AWARD
Sandra Bullock
Images include: Cameron Diaz, Tom Cruise, Jessica Alba, Vanessa Hudgens, Katy Perry, Robert Pattinson, Kristen Stewart, Taylor Lautner, Aziz Ansari, Anna Kendrick, Peter Facinelli, Snoop Dog, Diddy, Jonah Hill, Russell Brand, Amanda Seyfried, Zac Efron, Christina Aguilera, Sandra Bullock, Paul Rudd, Steve Carell, Bradley Cooper, Betty White, Scarlett Johansson, Ken Jeong, Rain, Tom Felton, Jersey Shore cast, Elizabeth Reaser, Nikki Reed, Chaske Spencer, Jackson Rathbone, Peter Facinelli