Pictures of Robert Pattinson With Kristen Stewart and Taylor Lautner at Twilight Eclipse Convention Fan Q&A in LA
Pics: Robert Pattinson and Kristen Stewart Flirt at Fan Event!
Robert Pattinson and Kristen Stewart looked adorable smiling and whispering as they joined Taylor Lautner on stage at the Eclipse Convention in LA over the weekend. The Twilight trio took part in a Q&A session with fans during their press junket: check out all the insider gossip at PopUS's twitter! Kristen shared her hair plans for On the Road and revealed Rob's other plans for their Best Kiss acceptance at the MTV Movie Awards. Taylor's hoping he'll give the couple some stiff competition for future kissing awards! Watch the entire Q&A after the jump!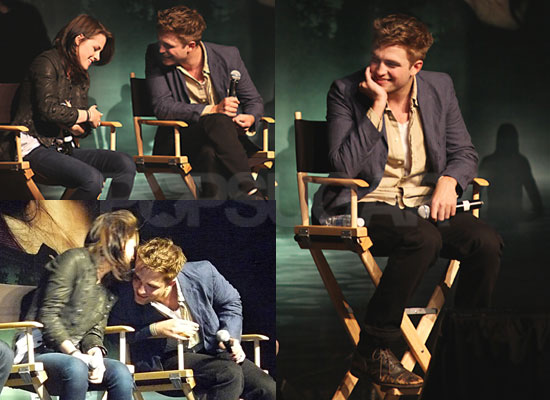 To watch the Q&A and see loads more pictures of Rob, Kristen and Taylor, read more.
stairway to heaven from Robert Pattinson on Vimeo.