Pictures of Rod Stewart and Penny Lancaster Who Have Welcomed a Son Baby Boy Named Aiden
Rod Stewart and Penny Lancaster Welcome a Son!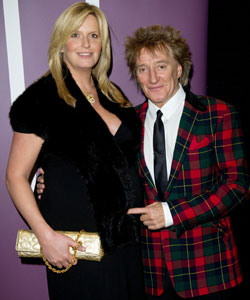 Penny Lancaster and Rod Stewart are celebrating the birth of their second child. Their new son, Aiden, was born in the UK on Wednesday and weighed 7lb 12oz. The couple released a statement saying:
"After the long-awaited arrival of their second child, Rod and Penny are proud and thrilled to welcome Alastair's baby brother, Aiden, into the world. Mother and baby are healthy and blissfully happy."
Rod and Penny announced the pregnancy in August during a sunny stay in Malibu, having discovered the good news while celebrating their third wedding anniversary in June. Aiden was born one month after Rod turned 66, and one month before Penny celebrates her 40th. The newborn joins big brother, five-year-old Alastair. Congrats to the growing family!