Pictures of Rod Stewart Who Is to Become a Father Again as Penny Lancaster Is Pregnant
Rod Stewart and Penny Lancaster Announce Pregnancy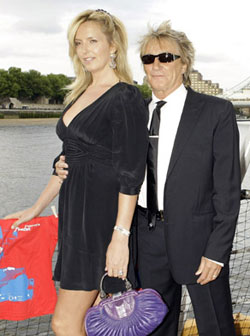 Rod Stewart is to become a father for the seventh time, as his wife Penny Lancaster is pregnant. The couple released a statement:
"Penny and Rod were lucky enough to be celebrating more than just their third wedding anniversary in June, as the news came that Penny was pregnant with their second child [...] We were thrilled and delighted to be able to tell Alastair that he was going to be the big brother to a little baby, expected just before Mummy's 40th birthday."
They have a four-year-old, Alastair, and Rod has more children from previous relationships. The newest addition is due just weeks after Rod's 66th birthday in January.
Congratulations Rod and Penny!