Pictures of Russell Brand and Katy Perry in India, Details of Their Wedding Including Katy's Dress and Ceremony
Russell Brand and Katy Perry Are Married!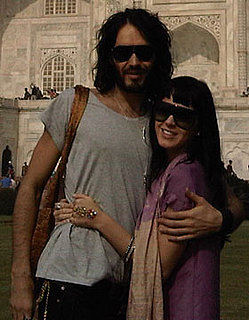 Katy Perry and Russell Brand got married in a Hindu ceremony at a tiger reserve in Rajasthan, India today. They got engaged on New Year's Eve in Jaipur, and held their stag do and hen party last month.
The couple reportedly started their six-day celebration by worshipping a statue of Lord Ganesh at luxury tented camp Aman-i-Khas. They then sat on thrones in a gazebo as the Hindu priest conducted the hour-long ceremony. Russell and Katy also took part in other rituals such as reciting Sanskrit mantras while tying a special wedding scarf together as they walked around a sacred fire seven times. FabUK has details on what Katy is thought to have worn.
Congratulations to the newlyweds!
Source: Twitpic User katyperry