Pictures of Scarlett Johansson at Moet and Chandon Event in France, Ryan Reynolds at the Toronto Film Festival Buried Premiere
Scarlett Sips Champagne in France as Ryan Is Buried at TIFF
Ryan Reynolds was the man of the hour at the Toronto Film Festival premiere of Buried last night. The movie, which takes place entirely inside a box where Ryan is trapped, was among Buzz's favorites at Sundance and is gaining more glowing reviews. Ryan and Scarlett Johansson are coming up on their second wedding anniversary later this month, though in keeping with their private nature he brought his mum Tammy as a date instead. Scarlett was busy last night in Epernay in her role as Moet ambassador. She got dressed up in a pretty dress and heels, and posed with Indian actor Arjun Rampal at a harvest event.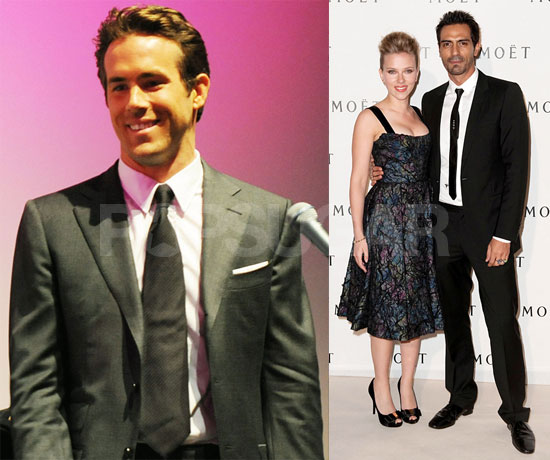 Ryan is among the many hot guys stopping through Canada and the well-dressed actor has more promotional appearances ahead before his film's release. He gave us a peek at his sensitive heart, sense of humour, and amazing abs on the October cover of GQ, but that's not all he has going for him. Ryan is adding TV comedy producer to his ever-growing CV.
To see more of Ryan, his mum, producers Peter Safran and Adrián Guerr, director Rodrigo Cortés, writer Chris Sparling, and others, just read more.