Pictures of Soccer Aid 2010 Match Robbie Williams, James Corden, Olly, Michael Sheen, Gordon Ramsay, Mike Myers, Woody Harrelson 2010-06-07 05:03:56
See Celebs Compete on the Football Pitch For Soccer Aid
Celebrities and football legends took to the pitch at Old Trafford last night to compete in Soccer Aid to raise funds for UNICEF UK. We saw the teams in training at the end of last week, and yesterday all their hard work came to fruition. After a 2-2 draw it went to penalties and then sudden death, with the Rest of the World team winning in the end. Watch footage of the penalties after the jump! Olly Murs played alongside Jamie Redknapp and Teddy Sherringham for the England side, which was led by assistant manager James Corden and captained by Robbie Williams. Rob has spoken about his plans to adopt orphans from Haiti.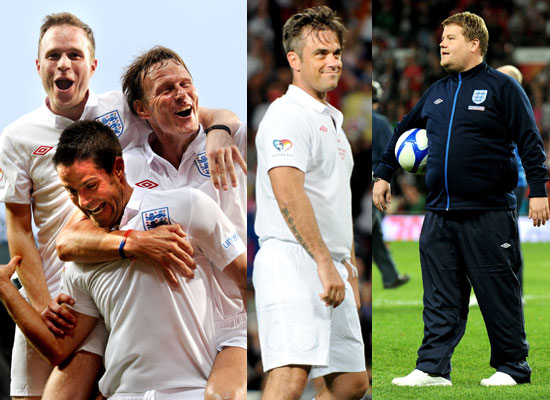 There were famous faces in the stands too, and Robbie shared a hug with Gary Barlow before kick off. The Rest of the World team lifted the cup and celebrated with captain Michael Sheen. He was helped to victory by Woody Harrelson, Joe Calzaghe, Gordon Ramsay and Mike Myers. The majority of you were excited for the game: did you watch on TV?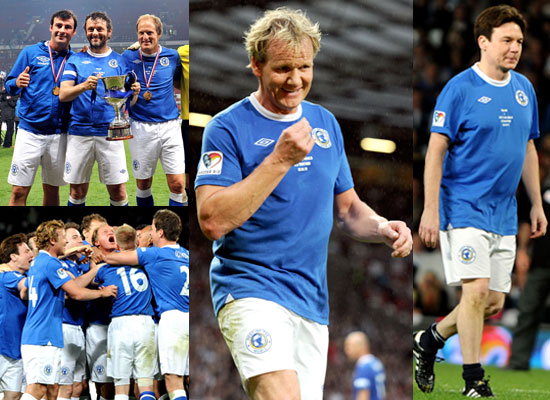 To watch video footage and see lots more pictures from the match, including Gethin Jones, Shane Filan, Nicky Byrne, Jamie Theakston and Ben Shephard, read more.
Images include: Michael Sheen, Gordon Ramsay, Gethin Jones, Patrick Kielty, Shane Filan, Nicky Byrne, Joe Calzaghe, James Kyson-Lee, Mike Myers, Woody Harrelson, Simon Baker, Robbie Williams, Jamie Theakston, Jonathan Wilkes, Ben Shephard, Bradley Walsh, Damian Lewis, Ricky Hatton, Paddy McGuiness, Martin Keown, Alan Shearer, Jamie Redknapp, Teddy Sheringham, Harry Redknapp, James Corden, Zinedine Zidane, Olly Murs, Luis Figo