Pictures of Vanessa Paradis Talks About Her Relationship With Johnny Depp And Her Kids In Marie Claire UK
Vanessa Paradis Chats About Her Life With Johnny Depp in Marie Claire
Vanessa Paradis opens up about her relationship with Johnny Depp in the latest issue of Marie Claire magazine. She shows off her playful personality in the accompanying photos and also ponders if she'd let her children go into the career she has had. Here are some extracts from her interview: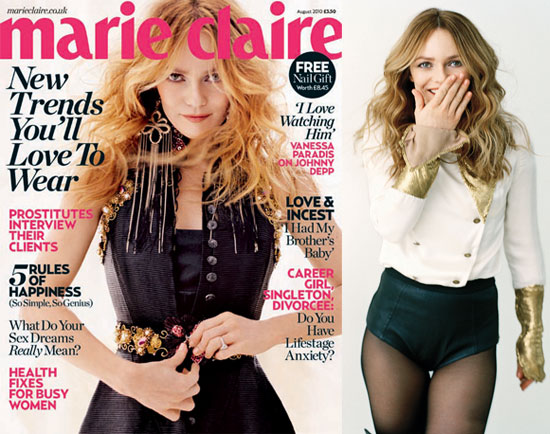 On if she asks Johnny's advice on scripts: "When it comes to planning, yes. Otherwise, very rarely. In fact, we don't really speak a lot about work when we're together. We just try to organise ourselves so we can spend as much time as possible together."
On how she keeps the passion alive: "First of all, you have to be lucky enough to find the right person. Next, the fact that we're not together every day plays a big part in keeping our relationship stable. And then we also have a lot of respect and admiration for each other. We understand that, if we want our relationship to continue, we must give each other space, allow each other to go off on our own, and trust each other."
On space and trust: "You're really lucky if you find someone you can trust when you spend time apart. But it's more complicated than that. Keeping love alive should be like the way you live your life: you don't eat the same meal every day, you don't read the same book, you don't listen to the same CD. When you are a couple, you need to go off alone and discover things for yourself."
To read more from Vanessa about Johnny and the possible careers of their kids, just read more.
On what she admires about Johnny: "I could make an endless list of all the things I admire about him, but above all I admire his immense loyalty. I love watching him when he's thoughtful or involved in something. I love observing him when he is talking to people. I love seeing how he deals with situations… I could go on and on, tell you I admire him as an actor, as a father and as the man he is for me. But more than anything, I admire him as a person. Not only when he is talking to me or his mother, but as a person in the world, in all kinds of situations. I think he is magnificent. Truly magnificent."
On the possibility of making a movie together: "A few years ago we were both going to be on the set of Terry Gilliam's Don Quixote film but shooting stopped. Frankly, the thought of filming with him would scare me to death. It's not that I don't want to, but I would be frightened that I wouldn't be up to his standard because he's so talented. And I don't know if I would be able to lie in front of him."
On if she'd let her children follow in her footsteps: "To sing and be in the public eye at 14 years old is not something everyone experiences. But do I now wish for the same thing for my children? I don't know – I would need to think about it for a long time before I could give you an answer."
The full interview is in the new issue of Marie Claire magazine, out now!