Pictures of Victoria Beckham, Leighton Meester, Gavin Rossdale, and More at 2011 Spring New York Fashion Week
Victoria Beckham, Diane Kruger, SJP, & Gavin Rossdale See Through a Fashionable NYC Weekend
It was a weekend full of stylish events for celebs in NYC attending Fashion Week, and things kicked off on Friday with all the Fashion's Night Out activities. Earlier that day, ladies like Diane Kruger, Anna Wintour, and Rachel Zoe were together for the sixth annual Fashion Award Benefit luncheon. Diane kept her black dress on to see Jason Wu's collection. On Saturday, there was a full schedule of shows. Maggie Gyllenhaal kicked off the day at A Détacher before joining M.I.A. at the construction-inspired Alexander Wang presentation. The Kardashian clan checked out Jill Stuart, and Whitney Port hosted her own show. Gavin Rossdale and Kingston were up bright and early to attend Bono's wife Ali Hewson's EDUN show. Gavin told us that he's keeping an eye on his sons while Gwen preps for her L.A.M.B. show later this week and said he loved the line's men's designs. Adorable style icon in the making, 4-year-old Kingston was very well behaved during the show.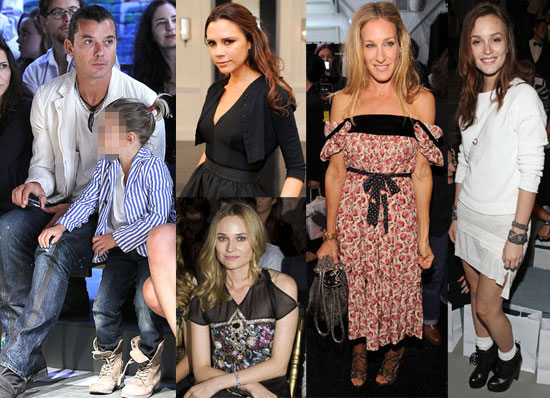 Victoria Beckham finally showed off her Victoria Beckham Collection yesterday with an intimate presentation that featured her latest crop of finely tailored dresses. She also revealed a new range of handbags, which Posh says are just as chic as her beloved Birkins. Leighton Meester turned out to see Derek Lam's creations, while Sarah Jessica Parker dressed up to see Diane von Furstenberg's warm weather designs along with Rachel Bilson.
To see more from the shows, just read more.
Images include: Leighton Meester, Rachel Zoe, Anna Wintour, Rashida Jones, Jessica Lowndes, Alison Brie, Carmen Electra, Michelle Trachtenberg, Maggie Gyllenhaal, Kim Kardashian, Kourtney Kardashian, Scott Disick, MIA, Lenny Kravitz, Gavin Rossdale, Kingston Rossdale, Whitney Port, Diane Kruger, Karl Lagerfeld, Victoria Beckham, Sarah Jessica Parker