Pictures of Wireless Festival Backstage and On Stage Inc Lily Allen, Snoop Dogg, Missy Elliott, Pink, Jay-Z, Beyonce, Madonna
Lily, Missy, Snoop, Pink and Jay-Z Rock Wireless Festival
Festival season continued apace this weekend, with Wireless Festival in London's Hyde Park. The three days of music saw stylish stars come to our shores. Pink headlined the show on Friday, and got cheeky with the back of her outfit. She shared the stage with The Ting Tings and Gossip on the first day. Snoop Dogg and Miss Elliott commanded the second day.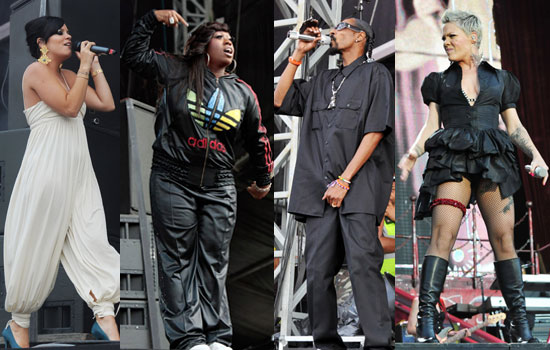 Come Sunday, Lily Allen and Jay-Z rocked their sets. Beyonce Knowles watched her man perform, and was kept company by Gwyneth Paltrow. Other music acts to take the stage over the weekend included Slash, Plan B, Chipmunk and Professor Green. Backstage was packed with celebs, from Princess Beatrice and Madonna to Cory Monteith and Rupert Grint.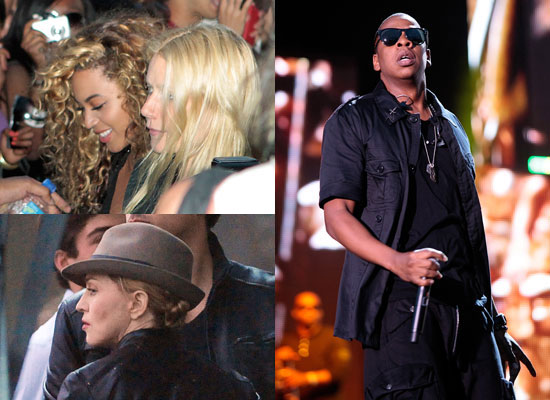 To see loads of pictures, including Olly Murs, Sarah Harding and many more, read more.
Images include: Beth Ditto, Plan B, The Ting Tings, Chris Parker, Fearne Cotton, Coco Sumner, Cory Monteith, Laura Whitmore, David Haye, Darius Campbell, Pink, Jack Tweed, Missy Elliott, Paloma Faith, Lisa Snowdon, Shayne Ward, Snoop Dogg, Slash, Paul Danan, Chipmunk, Olly Murs, Sarah Harding, Mr Hudson, Professor Green, Lily Allen, Jay-Z, Beyonce Knowles, Gwyneth Paltrow, Madonna, Rupert Grint, Pixie Geldof, Princess Eugenie, Sadie Frost, Alexandra Burke, Mark Ronson, Jack Osbourne