Pictures of Zac Efron in September 2010 Details Magazine
Zac Efron Looks Gorgeous In The Hot Desert For Details
Zac Efron braved the desert heat for a spread in the September issue of Details. He looked gorgeous, but sadly kept his shirt on in the accompanying photos — still, Zac's impressive six-pack is on display in his movie Charlie St. Cloud. He opened up to a writer from the magazine about people he sees as cool Hollywood guys like Tom Cruise and Shia LaBeouf, even sharing about not dating in Hollywood. Zac said: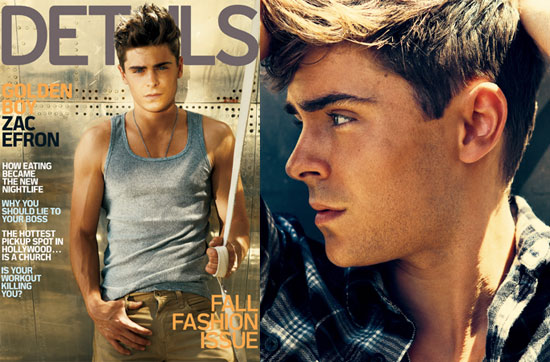 On why Tom Cruise taught him to ride a motorcycle: "I don't even want to know. It's just so cool that he gave a sh*t, the fact that he cared at all. No one else did that."
On Shia LeBouf's attitude: "I'm so jealous of that, yeah, that's awesome to not give a sh*t. And Shia still pulls it off. That's so cool. It's just awesome. It just comes easy to some people."
On not dating around Hollywood: "I think a lot of guys would enjoy that. But I'm not really like that. Believe me, I rack my brain thinking 'Why am I not out there playing the field?' One of my buddies was like, 'You have no idea what's going on right now. You're peaking on Ecstasy and you're watching TV.' But it's not in my heart. It's exactly how it should be. It's real."
On his penthouse interview location: "Dude, I gotta be honest, I gotta be up-front. This is not how I roll. I really don't get private rooms at the Soho House. I've never heard of anyone doing this before. This is. . . unusual."
On his poison oak: "I went backpacking over Memorial Day weekend and I just got the worst poison oak, bro. It was my first time getting it. Dude, it's, like, everywhere. Everywhere. I can't even begin to show you, 'cause you'll get so grossed out. I look like a zombie from Dawn of the Dead."
Photos courtesy Norman Jean Roy for Details