Pictures from the 2010 Hollywood Awards Including Carey Mulligan Leighton Meester, Justin Timberlake, James Franco
Gorgeous Girls and Tough Guys At 2010 Hollywood Awards
The Hollywood Awards were a star studded affair last night, with lots of celebs walking the red carpet and being honoured at the ceremony. Carey Mulligan is back in the US after her time at the London Film Festival and took time out from filming Drive to join Andrew Garfield on stage, looking gorgeous in a red dress. Andrew, Rashida Jones and their The Social Network costars won best ensemble award, while Leighton Meester wore a pale blue Elie Saab dress to pick up the spotlight award.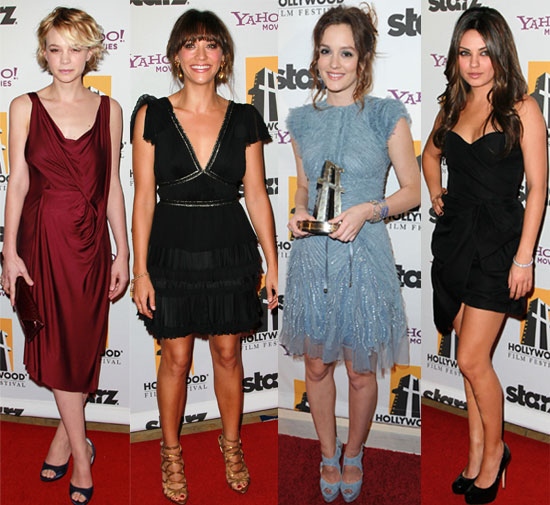 Mila Kunis has been promoting Black Swan at the LFF with costar Vincent Cassel, but is back in LA now and looked hot at last night's awards in her LBD. Bruce Willis and Arnold Schwarzenegger presented Sylvester Stallone's career achievement award, and had fun in the press room afterwards. James Franco enjoyed a casual night out earlier this week with Danny Boyle, but last night he was suited up for the ceremony, while Justin Timberlake left early to support Jessica Biel at the Glamour Reel Moments event.
To see more photos including Bryce Dallas Howard, Jodie Foster, Halle Berry and many more, just read more.