Pictures from the 2010 MTV EMAs Show and Performances
Sexy Stars Bare Skin During The 2010 MTV EMAs Show!
Eva Longoria hosted the MTV EMAs last night in Madrid, showing off 13 different outfits over the course of the show. Katy Perry helped with one costume change by removing Eva's skirt, and for another link the hostess was joined by a bevy of gorgeous men in their pants. When they turned around they revealed her surname on their bums! ICYMI, check out all the winners and let FabUK know who you think was the best dressed of the night!
Shakira opened the show with "Loca" and "Waka Waka", and was joined onstage by Dizzee Rascal. Rihanna showed off some skin and her vibrant red hair as she performed on stage - remind yourself of her performance and let me know whether you thought she was better than Katy Perry, Hayley Williams or Shakira. Meanwhile Miley Cyrus got rid of her maxi dress and showed off her pins for her performance.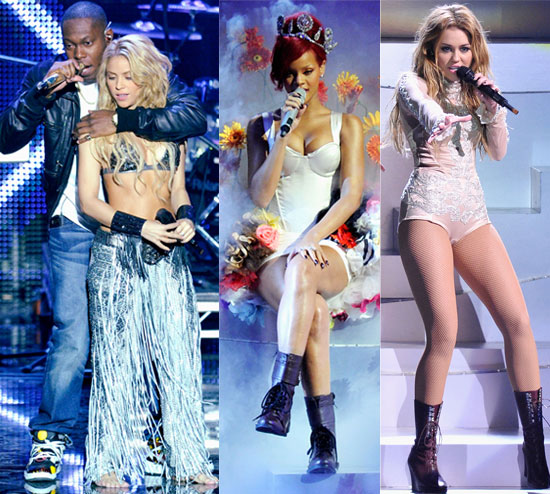 To see more photos from the show, including Johnny Knoxville, Lady Gaga, and more, just read more.