Pictures from the 2010 Met Gala Afterparties Including Jude Law, Sienna Miller, Emilie De Ravin, Emma Watson, Alexa Chung
See the Celebs Ready to Party After The Met Gala in NYC
After the Costume Institute Gala on Monday night, the celebrity guests attended afterparties that went on into the early hours. Blake Lively kept her blue dress on at one party before changing into a t-shirt, trainers and a sparkly miniskirt to join her man Penn Badgley at another venue. Alexa Chung changed up her outfit by crossing over her braces, while Emilie De Ravin covered up in a trench as she made her way to mingle with other stars including Emma Watson and Katy Perry who continued to light up the night in her unique dress.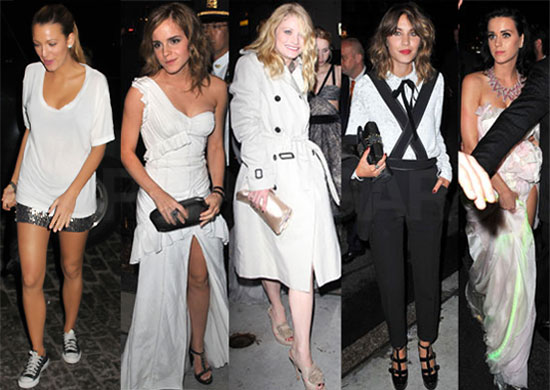 While Joshua Jackson signed autographs, Diane Kruger stood out in a short red dress after the Gala, which she had attended in a long white gown. Sienna Miller and Jude Law stayed as close outside the party as they did on the red carpet, while other couples headed to the afterparties included Jessica Biel and Justin Timberlake.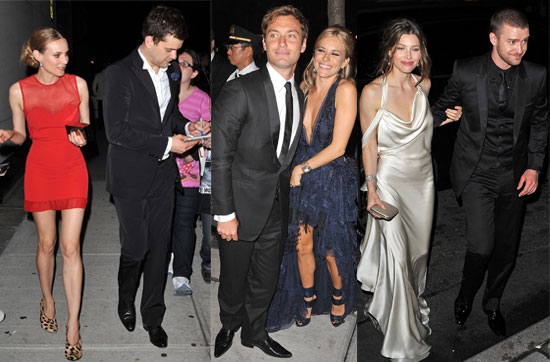 To see lots more photos from the afterparties including M.I.A, Jessica Alba, Eva Mendes, Claire Danes, Hugh Dancy, and Gwen Stefani, Gavin Rossdale, Naomi Watts, Rosario Dawson, Kate Hudson and many others, just read more.
Images include: Blake Lively, Penn Badgley, Eva Mendes, Diane Kruger, Emilie De Ravin, Tina Fey, Liev Schreiber, Naomi Campbell, Eva Longoria Parker, Claire Danes, Hugh Dancy, Jude Law, Sienna Miller, Anne Hathaway, Rosario Dawson, Alexa Chung, Gavin Rossdale, Gwen Stefani, Jessica Biel, Justin Timberlake, Diane Kruger, Joshua Jackson, Chloe Sevigny, Katy Perry, Stella McCartney, Kate Hudson, Emma Watson, Emmy Rossum, Ivanka Trump, Jessica Alba, Diddy, Daniel Craig, Bar Refaeli, Marion Cotillard, Karolina Kurkova, Tom Ford, MIA.