Pictures from the Rainforest Fund's 21st Birthday Celebration with Lady GaGa, Bruce Springsteen, Elton John, Kate Hudson, Sting
Superstars Get Together For a Big Charity Birthday Bash
Lady GaGa, Sir Elton John, Deborah Harry, Dame Shirley Bassey and Bruce Springsteen were among the performers at the Rainforest Fund's 21st Birthday Celebration at Carnegie Hall in NYC last night. GaGa looked striking in her unique white outfit, and had to take off one of her enormous shoes to work the piano pedal. Sting got in touch with his feminine side during the show, which was produced by his wife Trudie Styler.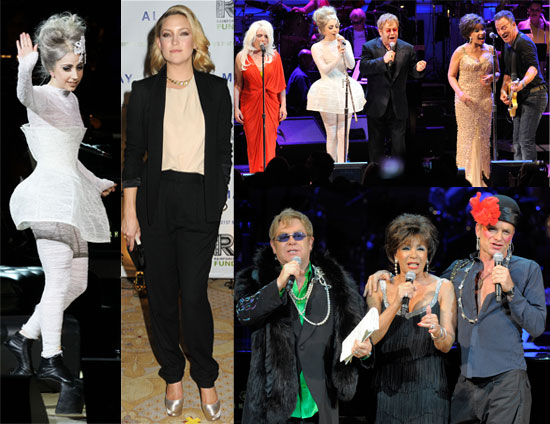 Chris Noth hosted the event, remember you could win tickets to see him as Mr Big at the Sex and the City 2 premiere! Mary J Blige performed with Sting, Elton amusingly sang "Like a Virgin" surrounded by some male dancers in their underwear, and all the performers reunited for Journey's "Don't Stop Believin'" as the final number. Goldie Hawn and Kate Hudson also took to the stage, while Christopher Walken and Sam Rockwell were among those that watched from the crowd.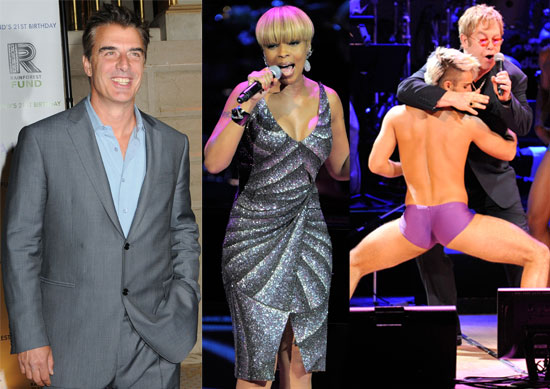 To see more fun photos including Christopher, Sam and Goldie, just read more.