Pictures from the Scott Pilgrim vs. the World European Premiere in London
Scott Pilgrim Cast Share Hugs & Laughs at European Premiere
Last night I was lucky enough to attend the Scott Pilgrim vs. The World premiere in Leicester Square. The film is adapted from Bryan Lee O'Malley's fantastic comic books, directed by Edgar Wright, and stars Michael Cera, Anna Kendrick, Mary Elizabeth Winstead, Jason Schwartzman and Chris Evans — who were all present at the screening last night. I spent time tweeting on the red carpet studying Michael Cera's freshly initialed nose, and taking notes on Ellen's amazing purple shoes, and how elegant Mary looked. The cast lived up to the high energy nature of the movie, particularly Jason, as they hugged, posed, signed lots of autographs and were interviewed by Lauren Laverne in front of the big crowds.
Anna Kendrick looked gorgeous in an off the shoulder black dress, while guest Hayley Atwell wore a short floral number. Let FabUK know whether you love or hate Anna's look. Brie Larson wore a very unique dress, but totally pulled it off in person with a big smile and her adorable personality. Ellen Wong plays Scott's entertaining love interest / obsessive stalker Knives Chau in the film but looked so chic on the red carpet in her LBD, meanwhile Florence Welch wore some fab black wedges as she made her way in to check out the film.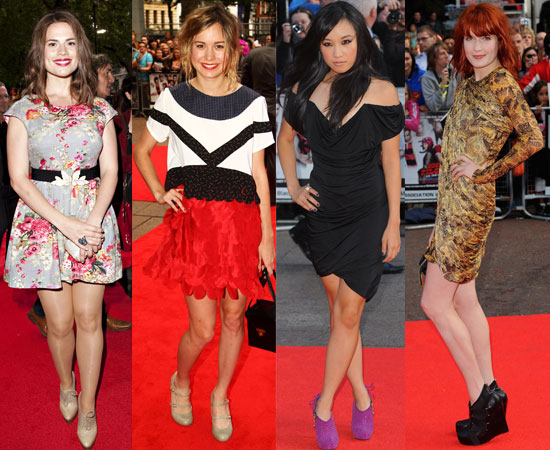 To see more photos from the premiere, including Chris, Brandon Routh, Kieran Culkin, Dermot O'Leary, Olly Murs and more, just read more.