Pictures from the Tamara Drewe London Premiere Including Newlywed Gemma Arterton, Pregnant Lily Allen, Dominic Cooper
Gemma Arterton & Pregnant Lily Allen Walk the Red Carpet As Tamara Drewe Takes On London
The Tamara Drewe premiere took place in Leicester Square last night and I was there bringing you all the goss from the red carpet on Twitter! Newlywed Gemma Arterton looked gorgeous in a Gucci gown with an almost make-up free face as she signed autographs and was interviewed. She gave costar Dominic Cooper a huge hug as they posed for photos, and later director Stephen Frears had to come out of the cinema to drag him inside so they could start the film! Lily Allen showed off her growing baby bump on the red carpet and signed autographs, missing the Elle party to support her producer mum's movie.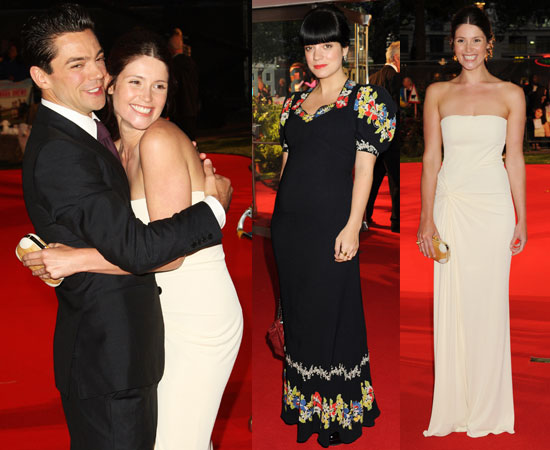 Lily warmed up in a velvet coat and continued her family fun week after launching her pop-up store with her sister, to pose for photos with her mother. Meanwhile Stephen Fry, who was very popular on the red carpet, chatted with the cow for support! Dominic hung out with his equally gorgeous costar Luke Evans during the evening. Then, after the screening, the stars all headed off to the afterparty! Gemma Arterton changed from her strapless cream frock into a black jumpsuit before posing in front of the pink and white cow that followed them from the premiere, while Gossip Girl's Ed Westwick was spotted leaving the party too!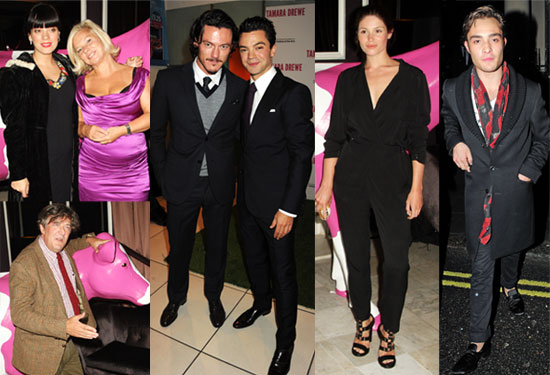 To see more photos from the premiere and afterparty, just read more.