Poll: Would You Like to See Justin Timberlake and Mila Kunis Together?
Justin Timberlake and Mila Kunis Are Both Single — Would You Like Them as a Couple?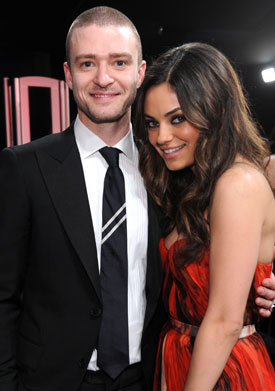 Mila Kunis and Justin Timberlake's raunchy romantic comedy hits the big screen this Summer and as of this week the Friends With Benefits costars also share a relationship status — single. Mila Kunis ended her eight-year relationship with Macauley Culkin following the holiday release of Black Swan and Justin announced his split from Jessica Biel on Thursday. Mila and Justin seemed to hit it off while filming in NYC last year and their onscreen chemistry feels believable in the hilarious film trailer. The pair took the stage together at the Oscars and crossed paths at the SAG Awards where Mila seemed comfortable cozying up to Justin in her gorgeous red Alexander McQueen gown. According to sources the twosome are very flirty but at the moment remain "just friends" in real life. So, tell us — would you like to see Justin and Mila together?