Pop Classic: Empire Records
I knew I had the basis of my first Pop Classic when FabUK posted her Back To Cool article, featuring the style of Liv Tyler playing Corey in the 1995 film Empire Records. This movie has been a firm favourite of mine since I rented it out on VHS years ago, without a clue who the actors were. At the time, all I saw were a bunch of weird kids working in a cool record store, and I loved it. As everything 90s is back right now — as seen in The Wackness, a resurgence of plaid shirts and the return of Take That, among other things — I really don't think there's any better time to look back at this film!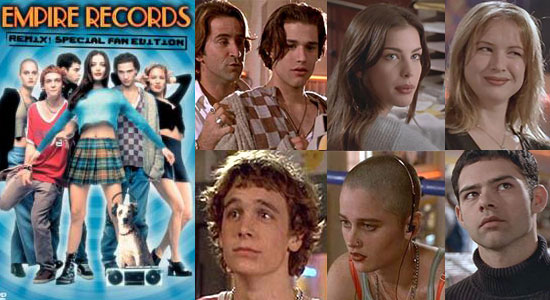 The cast is made up of a bunch of well-known and familiar faces, including Liv Tyler as Corey, Renee Zellweger as wild child Gina, Rory Cochrane as oddball Lucas, Ethan Embry as supersweet Mark, Anthony LaPaglia as store manager Joe, Robin Tunney as troubled Debra and gorgeous Johnny Whitworth as artist AJ.
To read more about the plot and my thoughts on the movie, as well as the trailer and a few fun clips just read more.
Here's the kind-of-cheesy 90s cinema trailer:
Sinead O'Rebellion
A love-struck Romeo...