Pop A DVD In: Gossip Girl Season One
Sadly, the Olympics are over, so what can you watch on TV now?! Never fear, the first season of Gossip Girl came out on DVD in the UK last week, whetting my appetite for series two (alongside all the photos from last week's premiere party in the US). Looking back on it all, I can't believe they managed to fit so much scandal, intrigue and dastardly Chuck into just 18 episodes (thanks to the WGA strike) – but then I remembered, this is all from those bods behind The OC – a show with a breakneck pace that's hard to explain to a non-viewer. Just watch the first two episodes of the Californian teen drama again and you'll swear that's enough storylines for a season!
But enough about The OC, GG held me captivated with all the glossy goings on in NYC as you can tell from my weekly recaps of the first season as they aired in the UK.
The main highlight for me was watching Chuck go from plain old evil in the first episode to being dastardly with an added bonus of attention-grabbing dress sense by the finale – so much fun. Blair and Serena have outfits you'll lust after, hair you'll hanker for and boys you might want for yourself. Yet you still end up liking them, or at least picking Team Serena or Team Blair in their many disagreements! Decked out in designer wares, Blair is deliciously bitchy, Serena and Dan team up to be a frustrating but nice enough couple, Nate goes from boring and beige to handsome when a little ruffled, and little Jenny shows many shades, from naive to controlling. While they've failed to really get a really likable Sandy and Kirsten Cohen-style parent in the mix, Lily van der Woodsen and Rufus Humphrey are both nice enough, whereas Blair's Mum and Nate's parents are mainly there to cause problems for their teenage offspring.
For the rest of my Gossip GIrl boxset review, just read more
The music is great too, as you can expect from an awesome supervisor like Alexandra Patsavas, who brings in bands like The Pierces and The Virgins – I can't tell you how many bands this woman has introduced me to via the shows she sources tracks for like The OC and Grey's Anatomy. There's also two haunting music videos from The Pierces amongst the extras on the DVD set.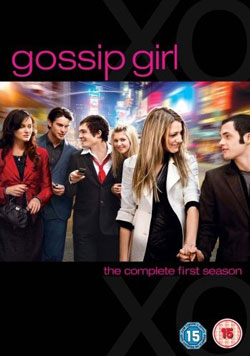 So what else is featured among the extras? Well, deleted scenes reveal heavier hints at Blair's eating disorder, Rufus has some throwback habits from his rock-star days, there's a hint Jenny might have actually learned something from her moments of madness in the series, and a line when I'm pretty sure Vanessa refers to herself as a hooker.
Featurettes include a look at how GG went from the series of novels to screen, including interviews with the original author Cecily Von Ziegasar, creators Josh Schwartz and Stephanie Savage, and the actors. We find out that visa issues threatened Ed Westwick's role in the series, and they liked him so much that they moved Chuck from a supporting role to a main member of the cast.
FabUK fans will love the looks at the fashion in "Gossip Girl Couture", there's a closer look at "A Gossip Girl Wedding", a downloadable audio book of the original novel read by Christina Ricci, two music videos and a Gag Reel.
It's a great boxset for any fan of the show – seeing Leighton Meester interviewed makes me love her even more, she's so adorable, and Ed Westwick speaking in his normal British accent is always awesome. It's fun to see their auditions, and also to see how much Penn Badgley swears in the gag reel – wow, does he kiss Blake Lively with that mouth?! I loved the series, and I love the boxset – it's well worth a rewatch if you're a fan, and seeking out if you haven't seen the series yet!
Image Sources:
The CW
and source