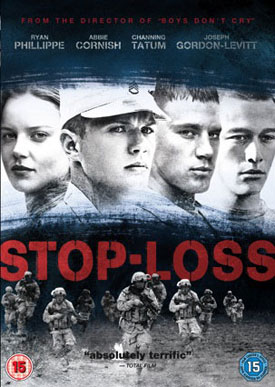 Stop-Loss stars Ryan Phillippe, Channing Tatum and Joseph Gordon-Levitt as three soldiers whose friendships and lives fall apart on their return home after serving in Iraq when Brandon King (Philippe) is "stop-lossed"; the US policy where soldiers who have completed their service are called back to serve again.
Brandon hits the road to seek justice and is accompanied by Michelle (Abbie Cornish), the fiancée of his childhood buddy Steve Shriver (Tatum), while those he leaves in Texas — particularly Tommy Burgess (Gordon-Levitt) — struggle to come to terms with life back home.
The acting by all three main male actors is great, and Channing Tatum won a Teen Choice Award in the "Movie Actor: Drama" category for his performance. I agree with my girl Buzz US that some of the accents are pretty awful, but that doesn't detract too much from the gripping drama.
To find out more about the film, and the DVD extras, read more
Watching Stop-Loss is an intense experience from the very beginning, with the film opening in Iraq and the camerawork contributing to the sense of unease and suspense. I didn't find the film sentimental nor sensational, more a gritty dramatisation of a frightening, frustrating and above-all complex situation. I was surprised at the lack of a love story, given Abbie Cornish's role, but I ended up pleased that the movie focussed more on the male friendships and the tensions within them.
The DVD extras are impressive, with a commentary from director Kimberly Peirce and co-writer Mark Richard, "Making Of" and "A Day in Boot Camp" featurettes and 11 deleted scenes, including some shirtless Ryan Phillippe action.
If you want to see more before deciding whether or not to pick up a copy of Stop-Loss you can head over to Buzz US to check out the trailer. I'd certainly recommend the film to those of you looking for a thought-provoking, well-acted film about the war.