Pop Poll on Jordan aka Katie Price's TV Series What Katie Did Next on ITV
Are You Interested in What Katie Did Next?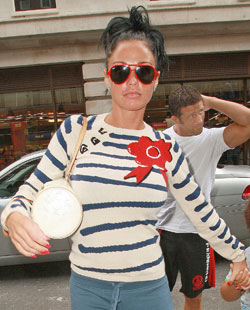 Katie Price is returning to our TV screens this Autumn in her own reality show, What Katie Did Next. ITV2's cameras have been following Kate since her split from Peter Andre, and the six part series will feature the children's birthday parties, Kate's calendar shoot in Ibiza, the launch of new novel Sapphire, and her pals' wedding. Kate said:
"I can't deny that things haven't been easy for me since the split – not at all – but you will see a very different side to me in my new show. I'm actually happy and there's been lots of laughter as I move on and get on with my life."
Adding another string to her bow, Kate has set up her own independent production company, Pricey Media, which produced this series. She said: "I'm really excited to be getting more involved with new shows and formats for next year." The majority of you are interested in Peter Andre's one-off show, so tell me: are you interested in What Katie Did Next?