Yesterday I took a break from the computer and headed out to a studio in London to watch an upbeat and attractive new British band – The Days – perform a few songs. Luke, Dan, Harry and Tim hail from Devon and this year they've supported Supergrass and worked hard, playing various dates around the UK.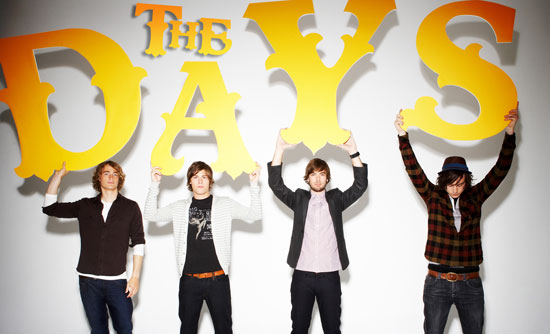 The sunshine-speckled four songs that they played had a couple of standouts among them – the upbeat "No Ties" was definitely my favourite and was so catchy that it's been in my head ever since. It has a singalong chorus that's begging for microphones to be held out to the audience for the shouty bits! They finished with an acoustic version of their song "Jane", which was another highlight of the set – a more laid-back number which kind of reminded me of an amped up version of a Jack Johnson song.
We had a great glimpse into what we can expect from the boys in the future. They had so much energy, were really tight as a musical group and their live set proved they are obviously all really talented. They're an upbeat pop/rock band that will draw comparisons with elements of Scouting For Girls, Jack Johnson, The Feeling and McFly and I don't think any of those comparisons are a bad thing.
Go and check out some of their music for yourself, and let me know what you think! I look forward to seeing more of the good looking lads in the future – they definitely brought some south-coast sunshine to my rainy London day!