Pop Presents: The Good Natured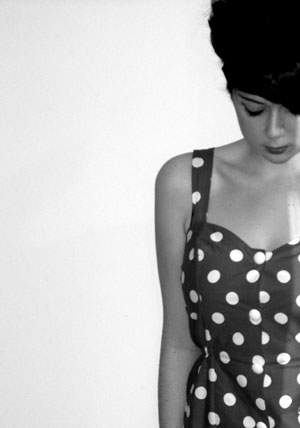 Before one of my friends headed back to America, he introduced me to Reading-based The Good Natured as a rather fabulous parting gift. I've been listening to her EP regularly ever since and thought it was about time I shared her with you!
If I had to sum up The Good Natured briefly, I'd describe her as a more sombre electropop version of Kate Nash or Bat For Lashes, with the odd hint of Lily Allen. Whereas some electro-tinged music can feel cold and impersonal, The Good Natured manages to bypass all that and add a full beating heart to her Yamaha keyboard. There's also a slight melancholy undertone in her voice that make her down-to-earth lyrics all the more identifiable.
When I found out that Sarah McIntosh — the creator of all this awesomeness — is just 17 years old, I was even more impressed. She's also pretty flexible — "Heart Of Stone" will send people rushing for the club dancefloor, yet "Rose" is more of an introspective listen-anywhere kind of a tune, which would jump well into the mainstream pop world with its stabbed keyboards (reminiscent of Scouting For Girls' signature piano). My current favourite track — it keeps changing — is the super-charged "Ivory Tower" which makes me feel like I've jumped into an 80s adventure video game, and that's always a compliment in my book.
So, check out Sarah's awesome music and let me know what you think. If you happen to be in London tonight get yourself down to Electroqueer where she's playing a set (maybe I'll see you there), or catch up with her on the future tour dates via her MySpace.