Pop Preview: The Hottie and the Nottie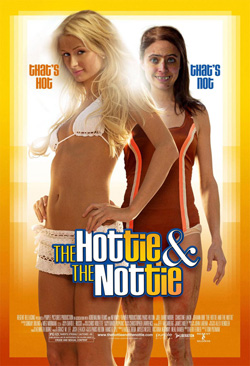 I had the pleasure, or should I say confusion, of watching Paris Hilton's new film The Hottie and the Nottie last night. It's a classic (or rather, clichéd) ugly duckling tale, mixed with some serious gross-out humour that made me want to vomit. Seriously.
I wasn't expecting to be wowed, but there was one surprising positive: Paris wasn't as awful in her role of the Hottie as I feared. But as Fab UK pointed out, she is essentially playing herself and how hard could that be?
What I found confusing, however, was that the film didn't seem to know what it was. Yes it was a gross-out comedy, yes it had a saccharine twist, but it also hinted at being a parody of such films without fully convincing me that it was that self-aware.
There are some crazy moments where the microphone sneaks into shot, which got the loudest laughs of the entire screening. While some of the journalists were convinced it was poor editing, I was fairly sure it was a deliberate self-referential undermining of the film, maybe in an attempt to claw back some credibility. But maybe I'm being too generous ...
To view the trailer and get more of my thoughts on the film, just read more
As you can see from the LA premiere, the Nottie (Christine Lakin) is in reality quite the Hottie, and I don't think it'll be too shocking when I say the film involves a certain transformation and ending that is signalled pretty much from the beginning.
I find the whole idea of these films, like She's All That, pretty worrying to be honest: while they purport to be championing the theory "it's what's inside that counts" there always has to be an external prettying up to create the happy ending.
When our girl Pop US asked if you were interested in the movie last December, the vast majority of you said you'd rather leave it. Now that it's coming to our shores (the UK release date is 28 March), are any of you tempted to give it a try?
The trailer below will give you an idea of what to expect ...