Pop Read: The Celeb Diaries by Mark Frith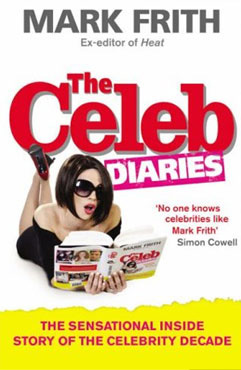 Mark Frith is best known for turning around the fortunes of Heat magazine when he took over as editor, as well as editing the fun music mag Smash Hits when I was a young avid reader. He's now documented his experiences at Heat in his new book The Celeb Diaries which is an interesting, easy-to-read look behind the scenes at a magazine that everyone seems to have an opinion about.
Despite apparently being hated by so many, Mark comes across throughout the book as a likable guy — he's a teetotal, quiet Yorkshireman who's settled with his partner Gaby and their son. He's happy to admit that he's had the wrong call on some aspects of celebdom (like Big Brother, which he originally dismissed until transmission of the first episode), and made mistakes while editor. He goes into depth about the decision he made to print the famed "Harvey wants to eat me" sticker featuring Jordan's son, and the consequences after it.
To find out more about the book, just read more
While the celebrity stories are interesting (although not as revelatory as I'd hoped), I was drawn to the sporadic accounts of the business side of the magazine — how he dealt with those representing the celebrities, the lawyers' letters that turned up at the office, his rivalry with Now and OK magazines, and his reactions to how he was written about in the press. He tells a brilliant story about how Heat's attempt to infiltrate Cheryl and Ashley Cole's wedding went hilariously awry. Thanks to stories like this, the book is frequently amusing.
Mark also has a lot of tales to tell about feuds with celebrities, including the moment Jude Law apparently tried to run him over — it seems celebrity journalism can be pretty dangerous at times. He concludes that Heat did start to see celebrities as their playthings, and lost sight of how much they should play with them — Mark thinks this should change.
All in all this book will appeal to anyone who's interested in the nature of celebrity and what goes on behind the scenes at a celebrity publication. Although I'd love it to be chock-full of shocking and revelatory stories, I can imagine that Mark doesn't want a whole bundle of more legal letters arriving at his door!
The Celeb Diaries is out now.