Pop Reports: Ida Maria at the Scala
My girl FabUK got to see Ida Maria last night...
Last night I braved the awful London weather to check out Norwegian's current hottest export at the Scala in King's Cross. If you don't recognise the name then you'll definitely remember the Summer anthem "I Like You So Much Better When You're Naked". Last night she took to the stage in a striped top and dyed keffiyeh scarf playing a guitar for the majority of the songs.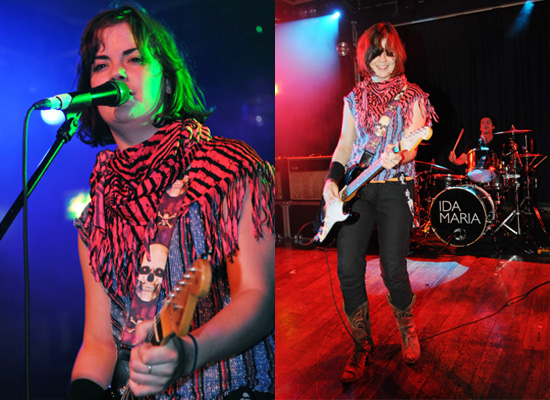 I really like singers with unusual voices which is what appealed to me about Ida. She has a really raw tone that almost sounds like she smoked 100 cigarettes a day for 50 years but seeing as she's only 24 that's not possible! Instead she is blessed with this very unusual sound and she definitely makes the most of it.
The Scala was packed but the audience were very mixed and despite her quite punky sound didn't respond much until towards the end when she played the singles. Not letting this put them off, Ida and her band had plenty of energy and moved around the stage to the music. They played all of the tracks on Ida's debut album Fortress Round My Heart and even sampled a couple of new tracks which were quite dark.
To read the rest of the review, just read more.
I would definitely describe Ida as quite quirky as she made unusual comments and posed in a funny way (comparable to Bjork) but to me this only added to her on-stage persona. Before the encore she played her most famous track which had the crowd leaping about and loudly singing along (nothing better than 100 people shouting "I like you so much better when you're naked"). The encore began with Ida performing a solo song with just a bass guitar. It was really impressive and showed a slightly experimental side to Ida's musical skills.
If you ever get chance to see Ida then I would recommend going with a load of girlfriends and bouncing around to her sing-along tunes. Especially if you're feeling particularly angry towards men.