Pop Watch: Gossip Girl, Season 1, Episode 13 "The Thin Line Between Chuck & Nate"
Pop Watch: Gossip Girl, "The Thin Line Between Chuck & Nate"
Last night's show marked the end of the first part of this series of Gossip Girl, as the writers went on strike and there was a massive gap in airdates in the US after this episode aired. So look out for minor changes in the cast's looks from the next episode - everyone needs to have their hair cut! All was well in last night's show – for one thing Chuck was back and we also got a good solid storyline for Blair and Serena's friendship, something that has been fairly lacking so far. Here's more of my thoughts: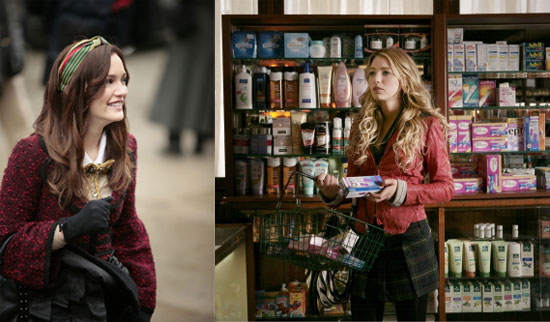 While we may never know who Gossip Girl is, she's got spies everywhere! The episode kicked off when Serena's pretty private moment buying a pregnancy test ends up on the internet. Cue the rumour mill.
Dan's little sister Jenny broke our eardrums as she re-emerged on the show. I'm happy to say that her sassiness was mostly good this episode rather than horrible. So maybe there is hope yet that Jenny will be catty but cool.
To see the rest of my thoughts, and to leave your own just read more
I never thought I'd say this, but I was unhappy there was no real parent plotline this episode. I mean, I guess there was a Rufus story and I know I should give up on him and Lily for now, but those new girls seem annoying. At least Dan and Jenny are all about their dad being such a stud.
Oh wow, Dan is the perfect boyfriend. And Serena is kind of annoying about it, with her whole "I need to know why you love me" thing. That whole scene was over the top. Those of you who love Dan/Serena probably thought that was the sweetest scene ever, but it just kind of grated on me. Am I jaded, or did you feel that too?

Love Blair. She had some great one-liners this episode. "Maybe I am a total b*tch. Did you ever think about that?" and "I'm sorry if unlike some people I haven't been on the pill since I was 15." She was on fire when she was in denial mode.
Did anyone else think that no matter what her motive, it was totally and completely wrong for Serena to tell Chuck about Blair's pregnancy scare? Blair had every right to be really annoyed, even if she wasn't totally honest with Serena about the situation.
And how about Jenny telling Nate about Chuck? Scandalous. Thankfully, Eric is wise in the ways of eavesdropping and can easily tell that's how the information got from Serena to Dan to Jenny to Nate.
Loved that Chuck wrote into Gossip Girl himself about Blair. Such a Chuck thing to do. How often has he been doing that?
And thank you writers, for bringing back evil, mean Chuck with a vengeance – he makes me shiver uncomfortably and laugh at the same time with his attitude! How about when he compared Blair to his father's Arabian horses, saying she was "rode hard and put away wet"? Ick! And this, "I don't want you, and I don't see how anyone else would." Yikes.
So all of a sudden, after one scandal for Blair, Jenny is the new Queen B? Really? Hmm...
I'm glad that Serena stopped Blair from running away. And I do love Serena because she's still best friends with Blair — though really, Blair's bark is worse than her bite. What a way to end the episode. "Who's going down next? Everybody, if Blair has anything to do with it."
I thought that was a great episode, and I totally can't wait to hear what you thought about the storylines this episode. Let me know! XOXO