Pop Watch: Gossip Girl, Season 1, Episode 14 "The Blair B*tch Project"
Pop Watch: Gossip Girl, Episode 14 "The Blair B*tch Project"
OK, so last night's Gossip Girl was the first after a break in the US – did you notice any differences in the cast's appearances?! While the episode title has Blair's name in it, the night really belonged to Jenny. Who knew she had the cojones to really be a worthy nemesis to Blair? Don't forget to test yourself with Fab UK's fashion quiz, but for now here's more of my thoughts: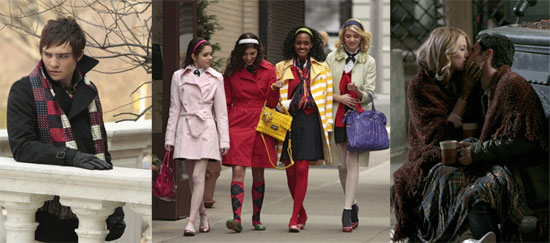 Oh, Chuck. He kicked off his new role as brother to Serena by smoking pot in her bathroom, and then responded to Serena's request that, due to them not sharing DNA, he not call her his sister by saying "Then I suggest you get new hand towels." Yuk.
There's a price to be paid when you're "Queen Bee" — Jenny owed one of her new friends $120 for brunch! Ouch. Mind you, there are perks to getting in with this new crew, including her trip to Aspen on a private jet. Not too shabby...
For some more really disgusting one-liners from Chuck (oh so evil) and the rest of my thoughts on GG, read more.
The Bass/van der Woodsen wedding planning was in full swing, with Bart Bass really emphasising that Chuck must be on his best behaviour during the build up. They have an odd relationship – it makes me feel sorry for Chuck. One of Chuck's best disgusting lines of the night came when a mysterious package arrived for Serena. When Lily asked her to keep that dirty package off the table, Chuck's response was, "If I had a dime for every time I've heard that . . ." What?! Yuk AGAIN!
Speaking of Lily and Chuck, the most naive statement of the year goes to Lily who said — in all seriousness — to her daughter, "Chuck may be eccentric, but I doubt he's diabolical." Oh, Lily, if only you knew. And the most accurate statement of the year goes to Serena's brother when she grilled him on why he was spending so much time with Chuck: "Chuck is fun!" True dat.

So, by Serena's mysterious inappropriate package No. 2 and from all my knowledge of upcoming guest stars on the show, I knew Chuck wasn't behind the deliveries and it was Georgina Sparks, Michelle Trachtenberg's character (Dawn from Buffy). Predictable.
Nate earned more cute-points from me when he was being protective of Jenny. I love him as the nice guy (even more than Dan) and thought he was endearing last night. Jenny should stop using him for popularity, though.
Oh Dan and Serena – yawn, boring, they're in love. Bring on Georgina!
Blair's photo-cake Jenny birthday bash was pretty genius and amusing, but Jenny was on her way to self-destruction anyway, because she stole her friend's mum's ridiculously expensive dress. I was mortified for her (and annoyed at her). My top Dan moment was his brotherly concern: "Dad's worried you're turning into a hideous cyborg."
Anyone else see some flaws in Jenny's logic? She's offended that Rufus thought she was ashamed of her background — but then went on a whiny tirade about how it sucks to be the girl who has to eat a brown-bag lunch. Jenny's annoying, but I still want to see what she gets herself into next.
Visual gag of the episode: Chuck Bass wearing a cardigan with bass embroidered into it. Amazing.
So, what do you think this Georgina character has on Serena? Do you think Chuck's dad is too harsh on him? Let me know all your thoughts in the comments below, but if you know storylines from the show already airing in the US then please don't spoil for UK fans. Thanks!