Pop Watch: Gossip Girl, Season 1, Episode 5 "Dare Devil"
Pop Watch: Gossip Girl, Episode 5 "Dare Devil"
Oh how I'm loving Gossip Girl. This week it was time for Serena and Dan's first official date, and Jenny managed to get invited on a very eventful sleepover at Blair's house. Don't forget to take Fab UK's fashion quiz! I can't wait to hear what you all thought about it, here's some of my thoughts:
I never went on a sleepover (or as Blair says... soirée) like that when I was a kid. Half of me is jealous, the other half is pretty glad.
Dan's nervous chatter to Serena's Mum was adorable. I like him more and more each week.
Speaking of Dan, he was all determined to make his first date with Serena perfect. Of course that meant that he went waaay to far in his attempt to impress her and caused moment after moment of awkwardness. It was totally uncomfortable. Bless.
For more of my thoughts, and to leave some of your own, just read more
I loved Blair's critique of Jenny's outfits – "Too Beyonce... too Mary-Kate... too Hannah Montana."
Blair and Jenny broke Eric out of the Ostroff centre as part of their game of Truth or Dare, leading Lily to assume Serena had helped get him out from the description "Young, blonde and beautiful..." Hmmm.
Dan and Serena's 'real' date was SO adorable. Such a cute couple. Oh, and they rolled out that classic 'teaching her to play pool' routine.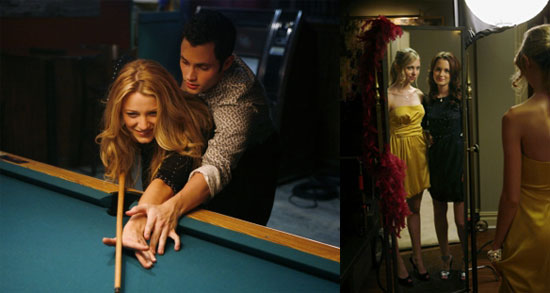 Lily showed up at Rufus's house, and he explained Eric wasn't with Serena. So they spent a little time together, talking about old times... that chemistry between them scares me a little. If only for Dan and Serena...
So Dan and Serena show up at the club where Blair and Jenny have been causing havoc, culminating in a great face off with the guy Blair made out with, and his girlfriend. I love a good argument.
The new Jenny is great – that bitchy side that Blair's coaxed out of her is superb, and check her out with the new groomed look. She could become a force to be reckoned with, I think... well, when she stops being so naive.
Where was CHUCK?! I missed the outfits. And the scheming. Didn't miss Nate so much though...
The girls' particularly sinful game of Truth Or Dare culminated in Jenny getting locked in the Waldorf store, and doing some genius bluffing with the police. She's got skills.
Oooh I loved this episode, and I like everyone for once. The parents, the kids... all of them. So what did you think of this one? Let me know all your thoughts in the comments below!
XOXO