Pop Watch: Gossip Girl, Season 1, Episode 8 "Seventeen Candles"
Pop Watch: Gossip Girl, Episode 8, "Seventeen Candles"
Gossip Girl and Guitar Hero sounds like a fun night in, but I never thought I'd see Guitar Hero in GG. Nobody throws a party quite like Blair Waldorf, but I was expecting a lot more drunken debauchery, I have to say. Don't forget to catch up with my buddy Fab UK for her fashion quiz! Spoilers below!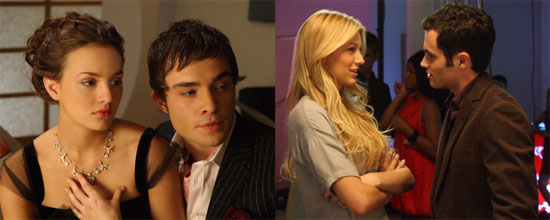 OK, so Vanessa is starting to annoy me to no end. She needs to give Serena and Dan some space. Granted, they really need to get a room.
I know most people hate him, but I'm still loving the pantomime villian that is Chuck. After he took that ever-so-special thing from Blair, he didn't pressure Blair into doing anything she didn't want to, so he doesn't deserve the abuse she gave him. Also, the scene with the necklace was almost sweet enough to make me forget that he kinda tried to date rape two of the main characters in the season premiere.
Uh, where did Eric go? And why doesn't anyone realise he's missing?
To read more of my thoughts and to leave your own just read more
Um, is it just me or does it seem like Dan and Jenny's mother doesn't really know her her children at all? I'm not a fan of Mama Humprey.
Nate's parents are super awkward, not to mention totally dim. The scene where his dad is trying to convince Nate the the whole scandal isn't really a big deal was painful. So, I'm generally not loving the parents again.

Loved Blair's Japanese-themed birthday party, with her minions dressed in Sailor Moon outfits. Cute!
But, are we really expected to believe that Serena sits around and practices her video game skills? Come on, in the real world Vanessa would have kicked her ass. And Serena's hair wouldn't be so perfect... Maybe a dance-off would've been better? Also, Serena's guitar faces made me cringe. *shiver*
In summary, I'm leaning more towards Team Blair this episode. Big change!
Line of the episode: "You went down almost as hard as Britney at the VMAs." OK, so not as current as when it would have first aired in the States, but still giggle-inducing.
As creepy as Chuck can be, I think I like him and Blair together. They have a weird love/hate chemistry going on. Their banter is pretty entertaining, especially when Blair is telling Chuck to kill his inner butterflies. Nate, though very pretty, is too safe and dull for her.
Blair and Chuck are still hooking up and only Serena knows... can't wait to hear what she says... and, eventually, how Nate reacts! Eek!
So here are my questions: Could you see yourself liking Chuck now he's being fleshed out a little? Are you wishing all of the parents would relocate to a desert island so we don't have to watch them anymore? And will Dan and Serena be able to make it through an episode without a Vanessa interruption? Oh god I hope so.
Leave your comments below, XOXO