Pop Watch: Gossip Girl, Season 1, Episode 9 "Blair Waldorf Must Pie"
Pop Watch: Gossip Girl, Episode 9 "Blair Waldorf Must Pie"
OK, so Chuck starts to win the audience over on Gossip Girl and then he disappears for a whole episode? Really? Shame on you, writers, shame on you! It was cool to get some flashbacks to what they were all like one year earlier though, (and j'adore Blair's capelet in this photo!). Here are some more of my thoughts: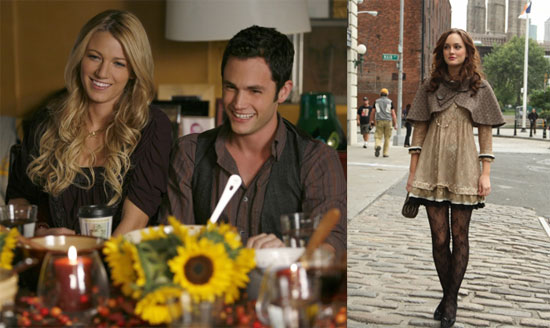 Before I get to my input, as always you must check out Fab's Fashion Quiz on last night's episode!
Ah, so much Blair/Serena drama! One minute they're BFFs, and the next they're at each other's throats – I'm finding it hard to keep up! Blair was pretty snippy towards Serena, but to be fair she did forgive her pretty quick for sleeping with Nate. Serena really doesn't have any place to judge so much. Maybe it's just because I have a major soft spot for Chuck.
To read more thoughts about the past and present Gossip Girl Thanksgivings, just read more
Thank god Serena and Dan finally know about their parents' past affairs. Sure, it made their Thanksgiving a little awkward, and Dan will probably have some seriously introspective moments about wanting to be with Serena, but at least it's out in the open.
Speaking of which, Rufus and Alison made up pretty quickly. What? That's all wrapped up in a matter of minutes. I want to care about their plot line, really I do, I just can't. It doesn't help that Alison is so bland.
This episode gave us the best insight into Blair. Just one year before her life seemed perfect. Even though her kinda jerky boyfriend and best friend were having a flirty water fight upstairs at her family's Thanksgiving...her parents seemed happy and she didn't have a care in the world. And now, she's without Nate, Serena is really only kind of trying to understand, her dad is off in Europe with another man and filing divorce papers, her mom is sort of dishonest...and she has eating issues? Poor Blair.
So, lots of flashbacks... do you wish Serena was still all messed up? Or do you prefer sensible(ish) but self-involved Serena?
OK, enough of the parents already. I'm so over them. More kids away from parents please?! And, while I'm at it, MORE CHUCK?!?!?!
Best line of the episode: "You know what's really weird? There's a garage door in the middle of your room." That is weird.
OK, so we've established I think that Nate is a dolt, but this ep really showed he's a bumbling defenseless one. I mean, his mum sucks, but Nate isn't much better.
The final set of scenes was actually pretty sweet with all the kids and their respective parents bonding over football, french fries, tea. Let's see how long that peacefulness lasts.
Next week, the return of Chuck! Thank goodness. I have to say this wasn't one of my favourite eps, but I have high hopes next week we'll be back on form. But now I want to know what you thought about last night's episode – Let me know!
XOXO