Pop Watch: Lipstick Jungle, Episode 3, "Pink Poison"
Pop Watch: Lipstick Jungle, Episode 3, "Pink Poison"
I'm still liking Lipstick Jungle more and more each week, though I still think it's trying a little too hard. I'm still not absolutely loving Victory's scenes, but she and the show is growing on me. Wendy had some good moments, and Nico's affair took a nasty turn. Make sure you don't miss Fab and Bella's fashion and beauty quiz about the show, but first, here's more of my thoughts:

Robert Buckley has become my premiere TV crush, just saying. How gorgeous is he in this show?!
My favourite lines last night came from Maddie, like this one — "And the person who cuts my hair? Also cuts Sarah Michelle Gellar's"
It was so random but funny that they made Brooke Shields' feet into a plot point: Wendy doesn't try on shoes in public because people "marvel at how big they are." Amusing!
To read more of my thoughts and to leave your own, just read more.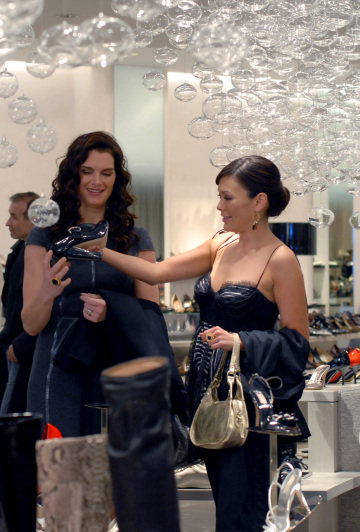 I really like Wendy, but I'm afraid I still don't understand her character — her personality is so split. She's so soft and warm and motherly, and I don't know how she gets from there to scrawling "b*tch" in lipstick on the back of Janice's coat.
Because of this, I'm not really sure whether she was conscious of how much she was using Maddie as a pawn in her fight over the nanny expose. She actually might have been wanting to give her some new clothes and a lunch out, but she also clearly wanted to parade her beautiful, nice daughter in front of Janice. But she pretty much dug her own grave there by screeching at Maddie; anyone who orders around an adolescent girl like that in public is going to pay.
Oh, billionaire Joe Bennett. One minute you're so nice, taking Victory away to Paris and setting her up in Coco Chanel's secret studio. The next, you're all antisocial and weird. Then you're sending over Coco's dress form. Then you're refusing to compromise again. Why do you make it so hard to like you? Another case of the split personality syndrome...
That said, his shock at the fact that Victory would actually ask him to hang out with her friends again was one of my favourite moments of the episode. Time is money, Victory!
Nico's really not so good at this affair thing, is she? Who in their right mind gets her goooorgeous bedfellow fired, and then writes him a cheque, thus creating a paper trail that links them?
Nico is good at getting her friends out of trouble though. I love Janice's new assistant: Sweater Boy! That was a nice addition.
So, a sexual harassment lawsuit? That's going to get ugly fast. The rest of the women ended up in a pretty good place (Wendy making up with Maddie, Victory at least telling Joe what she needs), so I suppose it's good that there's at least one salacious story held over for next week.
Let me know your thoughts, I can't wait to hear them!