Pop Watch: One Tree Hill — The Complete Season Five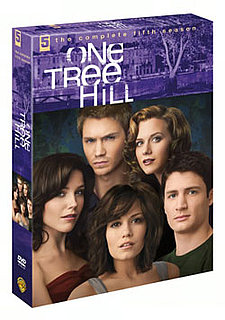 One Tree Hill is a guilty pleasure of mine. It's not an amazingly accomplished TV show, and I always preferred the shorter-spanning The OC, but it has enough elements that make it really entertaining on a rainy Sunday afternoon.
The fifth season of the show has been released on DVD this month — a season that marked a quick about turn in the show's storylines. Basically, having followed the teens through school years over the previous four seasons, the fifth season skipped four years into the future, taking the characters closer to the actors' real ages. We saw Lucas, Nathan, Peyton, Brooke, Mouth and Hayley's new lives, loves, careers and frustrations.
This time skip gave the show a new lease of life, and allowed pantomime villian evil Dan to be released from prison during the season, having served a few years time. It also allowed Nathan and Hayley's adorable Jonathan Lipnicki-alike son Jamie to have grown a few years, and for them all to have reached for the stars and either succeeded or failed, with bonus stories to tell.
To read more of my thoughts on the box set, just read more.
The show flits between being ridiculously over-earnest, and flippant and fun, and is full of good-looking young people from Chad Michael Murray, hot (crazy) nanny Torrey DeVitto and my favourite actress in the series Sophia Bush. This is also the season that guest-starred an amusingly intense Kevin Federline in a few episodes, who I enjoyed immensely — though perhaps not for the quality of his acting. Extras include features, deleted scenes and commentaries.
All in all I had a great time watching through the episodes on this box-set, and it's almost tempted me to go back to the previous seasons and have another watch. It's silly, it sometimes takes itself way to seriously, and it can be very cheesy, but it's also a fun guilty pleasure!