Pop Watch: Pushing Daisies, Season 1, Episode 1 "Pie-Lette"
Pop Watch: Pushing Daisies, Episode 1 "Pie-Lette"
Well, ITV brought us another new American show to enjoy last night, this time starring an actress of our own – the gorgeous Anna Friel. Pushing Daisies started last night in all its whimsical, quirky glory, and I'd love to know what you thought about it. First, though, here's what I thought of last night's show: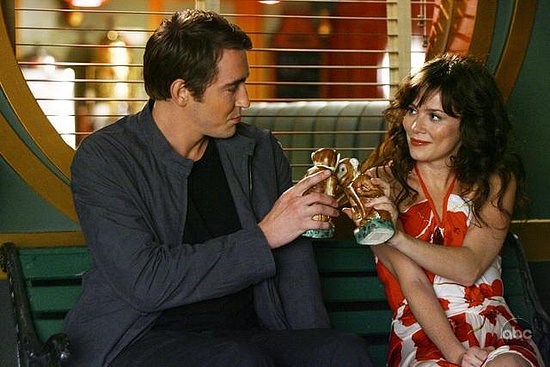 First of all, I want to live in their over-saturated fantasy world. Everything just pops with shiny colour there. Could the skies be bluer? The colours brighter? It's so ridiculously pretty to look at, and feels so different to any other show currently out there.
English actor Jim Dale narrates the tales, and his voice is lovely and soothing. He definitely adds to the fairytale element of the show.
But onto the premise – so Ned can bring dead things and people back to life. However when he brings his mother back to life and his childhood crush Chuck's dad dies almost immediately afterwards he realizes there are consequences. He can only bring people back to life for a minute, otherwise someone else dies. When his mother kisses him, she loses her life once more. So his first touch brings life, and his second touch brings death, again, forever.
For more of my thoughts on last night's episode, just read more
I've never been a pie fan. But those pies that Ned makes look stunning... delish!

It's lovely to see Kristin Chenoweth in this show, she plays Olive Snook – the waitress in love with the piemaker. She's so pocket-sized, especially next to the rather tall Lee Pace who plays Ned.
So, Emerson Cod's the only one who knows Ned's abilities. His cynical Private Investigator character added a little edge to the sugar-sweet show. He's teamed up with the piemaker to solve murders for good (and it's easier to cash in on reward money when you can ask the victim who killed them).
Last night, Ned's childhood sweetheart Chuck was murdered on a cruise, so Emerson and Ned went off to try and find out who did it by bringing her back. But when it came to putting her back to sleep again he just couldn't. And who can blame him, it's lovely Anna Friel for goodness' sake! So the funeral director died instead.

Chuck has two Aunts – Lily and Vivian – with personality disorders/social phobias. She's looked after them their entire lives – what a golden girl she is. All wide-eyed and sparkly sweet. I'd love to nosy around their house, that set is fantastic!
I loved the line Chuck delivered when she learned she couldn't hug Ned, "A hug is an emotional Heimlich". How can you go through life without hugging? Poor Chuck and Ned.
This show reveals so much in its details — the goofy picture of Chuck that the newsreaders showed when talking about her death; the scratching contraption that Ned uses to pet his dog; the eye patch that kept Aunt Lily from realizing that Chuck was alive again. That was fab.
Ned and Chuck found other ways to show their affection with one another – the monkeys, the hand holding behind their backs… they're both too cute.
So what did you think – are you looking forward to next week's episode? Or was all the sweetness too much to take?